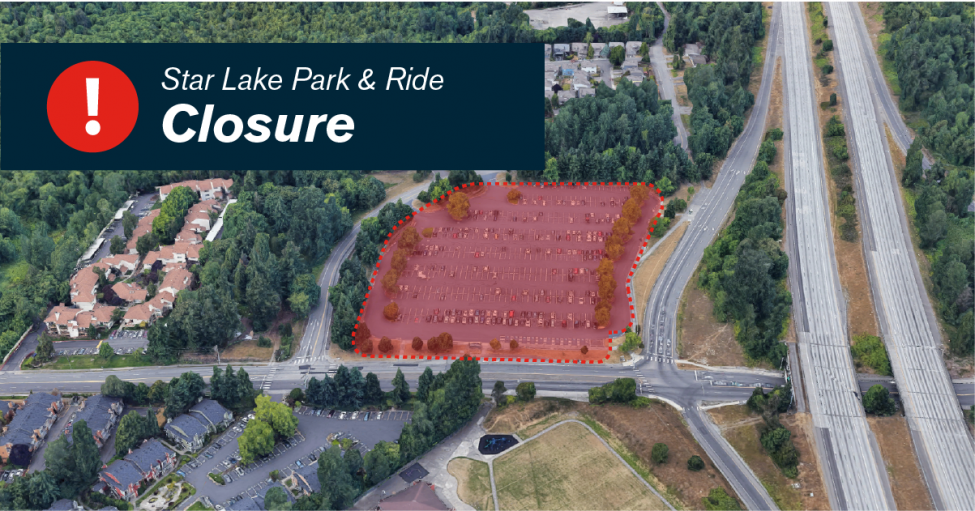 Don't forget: Star Lake Park-and-Ride is closing
Plan ahead for lot closure beginning next week 
On Sunday, March 22, Sound Transit construction crews will permanently close the Star Lake Park-and-Ride lot and redirect commuters to the Redondo Heights Park-and-Ride lot. This change is to make way for the construction of our new Link light rail station and garage on the Star Lake site.
Plan ahead and check your bus schedule to make sure you have enough time to reach your final destination.
Adapting bus service

Once the Star Lake Park-and-Ride lot closes, Metro bus routes 183 and 190 will no longer serve the lot. However, Metro Route 190 will continue serving the Star Lake freeway stops on the I-5 northbound on-ramp and southbound off-ramp at S. 272nd Street. Service to all other stops in the area will not change.
Alternative parking options

We encourage commuters to use the Redondo Heights Park-and-Ride, a larger lot located less than a mile southwest of the Star Lake lot, at 27454 Pacific Highway S. 
From the Redondo Heights lot:

•    Take Metro Route 190 to reach the Star Lake freeway stations on I-5.
•    Take the RapidRide A Line to Link light rail at Angle Lake Station or bus connections at Tukwila International Boulevard Station.