East Link construction in central Bellevue continues this spring
Body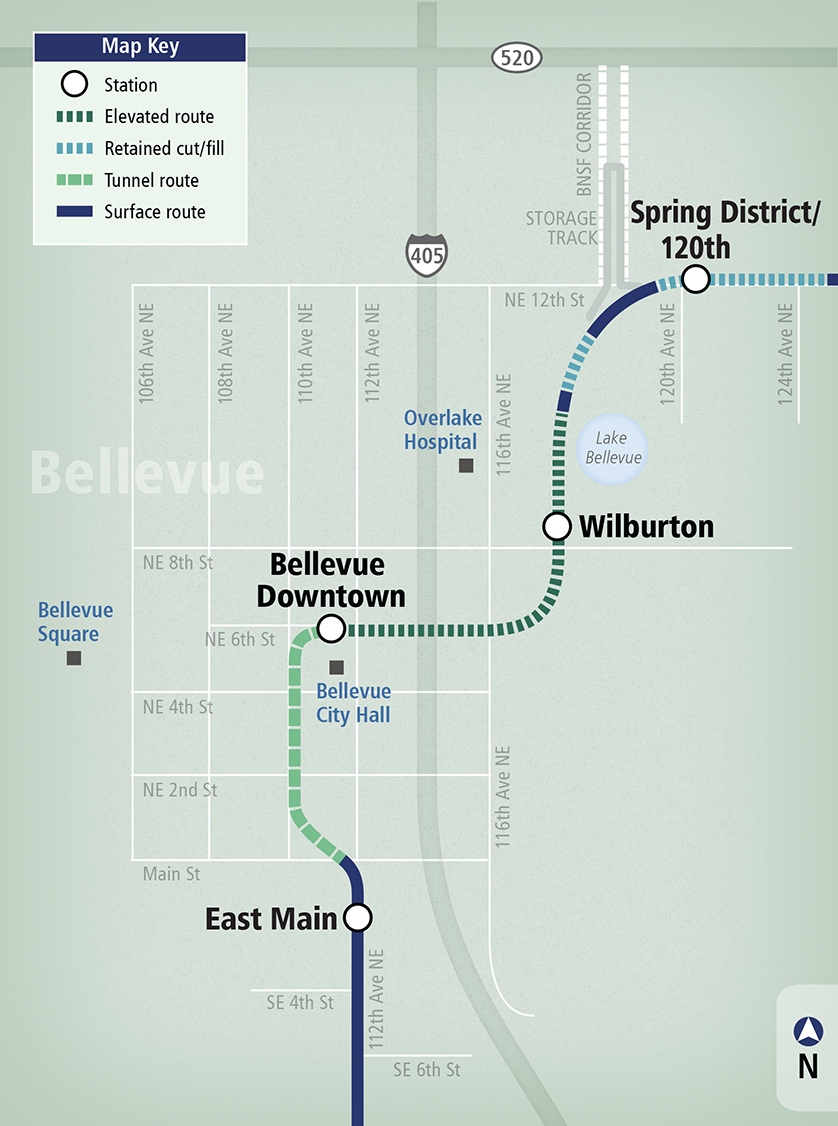 'Meet the Contractor' open house: Tuesday, June 6
While construction of the downtown Bellevue tunnel continues, Sound Transit will begin building the above-ground sections of the light rail alignment between East Main Station and Spring District/120th Station, the "central Bellevue" area, this spring. The central Bellevue portion of East Link is an approximately 2-mile segment of the project's 14 miles of new light rail, which includes four of the 10 stations. Stations include East Main Station, Bellevue Downtown Station, Wilburton Station, and Spring District/120th Station.
A public meeting to kick-off construction in central Bellevue is scheduled for Tuesday, June 6. More information regarding the meeting is available below.
Central Bellevue light rail stations
East Main Station: Located south of the intersection of 112th Avenue SE and Main Street, this street-level station provides increased transit access to surrounding residences, neighborhoods and businesses in southeast downtown Bellevue.
Bellevue Downtown Station: This street-level station at NE 6th Street serves downtown Bellevue near the existing transit center. The station includes entrances on the east side of 110th Avenue NE and the west side of 112th Avenue NE.
Wilburton Station: Located just north of NE 8th Street, riders will enter at a south entrance from NE 8th Street and a north entrance connected to 116th Avenue NE via a new pedestrian walkway. This elevated station, which includes a passenger drop-off, pedestrian access and bus connections, provides important access to the medical facilities and Wilburton re-development area.
Spring District/120th Station: Located between 120th and 124th avenues NE, north of a planned new NE 15th Street roadway, this station will be below street-level to support City of Bellevue and Spring District redevelopment plans. It provides a transit-oriented joint development opportunity with the site developer.
What to expect – Spring/Summer 2017
Construction is anticipated to get underway as early as May and will begin on the elevated light rail structure and north tunnel portal at NE 6th Street and 110th Avenue NE. The elevated structure will span I-405, connecting the Bellevue Downtown and Wilburton Stations. Initial activities will include demolition of some existing Sound Transit-owned structures on the west and east sides of I-405, utility relocation and the installation of erosion and sediment control measures. Fencing will be installed around the work areas to establish safe construction sites. Later this year, work at the north tunnel portal will require a long-term closure of a portion of110th Avenue NE near NE 6th Street. Detour signage will be provided around the closure which is anticipated to last approximately nine months.
Construction at Bellevue City Hall will also be noticeable as crews begin work on the plaza and parking garage in preparation for construction of the Bellevue Downtown Station. Some of the first activities you can expect to see at City Hall will include relocation of the art pieces on the City Hall plaza, demolition of the small plaza building next to NE 6th Street, and reconfigured access to the parking garage. Later this year, a portion of the City Hall parking garage will be removed as the structure will be reconstructed to integrate with the future plaza and light rail station.  Parking for City Hall visitors will be available during construction.
Stay tuned, additional information related to construction activities will be provided in future construction alerts.
'Meet the Contractor' open house
Please join us to learn more about:
Construction plans for the central Bellevue section of East Link
Stacy and Witbeck/Atkinson, the contractor Sound Transit has hired to build this portion of the project
How to stay informed during construction
When: Tuesday June 6, 2017, 5 – 7 p.m.
Open house format. Presentation begins at 5:30 p.m.
Where: Bellevue City Hall – Main Concourse
450 110th Ave NE, Bellevue, WA 98004
Limited parking available at City Hall, which is adjacent to the Bellevue Transit Center.