Federal Way Transit Center station area spotlight
Body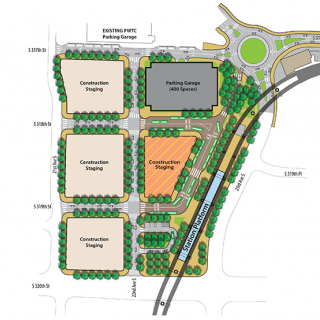 The existing Federal Way Transit Center will be home to the southernmost station in the Federal Way Link Extension. To be constructed near the heart of the commercial core and adjacent to the existing transit center, the new station area will become a hub of many modes of transportation, including light rail. Station area plans include a structure offering 400 additional parking spaces. The project also makes improvements to enable community members to easily access the new light rail station by walking, driving, biking or taking the bus.
The elevated station will be a prominent structure, with a design intended to complement the growing cultural heart of Federal Way City Center. The station will draw inspiration from northwest modern architecture, reference local natural resources and focus on creating a pedestrian-friendly urban design that will encourage a lively and engaging environment.
A trip to Sea-Tac International Airport from this station will take about 15 minutes, and riders heading to downtown Seattle will reach that destination in about 50 minutes. By 2035, Sound Transit estimates an average of 12,500 people per day will be taking light rail from the Federal Way Transit Center station.
A space for art at the Federal Way Transit Center
Sound Transit assembled a panel made up of local arts commissioners, artists, educators and design professionals who have selected three nationally recognized artists to work on the Federal Way Transit Center station. Each artist will create artwork for one of three areas: the new parking garage, the light rail station and the pedestrian plaza surrounding the station. Integrating their art early will enable each piece to influence the design of the buildings and plaza.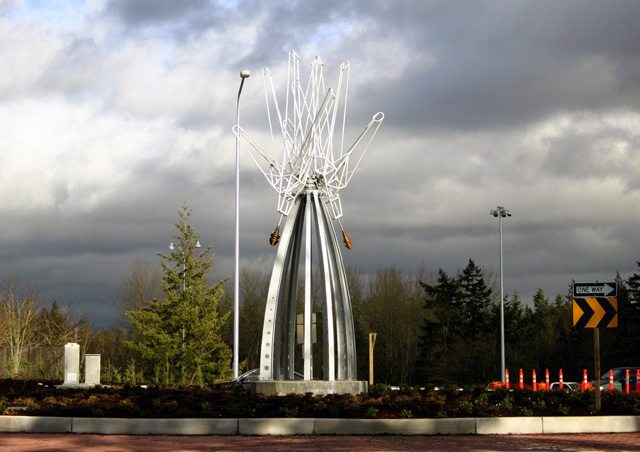 Hi-Five, Miles Pepper, created in 2005 for the Federal Way Transit Center
Sound Transit in the community
In 2018 the Sound Transit team attended community events in SeaTac, Des Moines, Kent and Federal Way to share updates on the Federal Way Link Extension project. More than 2,000 people stopped by our booths at fairs, festivals and farmers markets. 
Be on the lookout for Sound Transit at events in 2019, or you can email Community Outreach Specialist Jefferson Rose for additional information.
Upcoming activities
Sound Transit is reviewing proposals from short-listed firms and in spring of 2019 will award the design-build contract to the top ranked contractor. Construction activities and timelines will depend on the winning contractor's design plans.  
We will continue to provide updates as more information becomes available during the decision-making process.
Report to the community
Sound Transit sent a regional progress report on our projects to mailboxes across the South Sound. If you missed it, here is a link to see it electronically.