Happy New Year!
Body
Welcome to the Lynnwood Link Extension (LLE) email list if you are a newcomer and thank you to those who have already been receiving these email updates. Email updates continue to be one of the best ways to stay updated on the LLE project and opportunities for public involvement, so stay tuned!
2016 was a busy year for the LLE project. Our staff, in coordination with jurisdictional and transit agency partners, started the LLE project's final design phase and began further refining the project's guideway, stations and operating systems. The 30%, 60% and 90% (ready for construction) milestones during this phase are named for their association with a general level of design "completeness". 30% design was completed in the fall and we are working to finish 60% this spring. The LLE project anticipates starting early construction in late 2018 and opening for service in 2023.
Thank you for your feedback!
Summary of the 30 percent station design open houses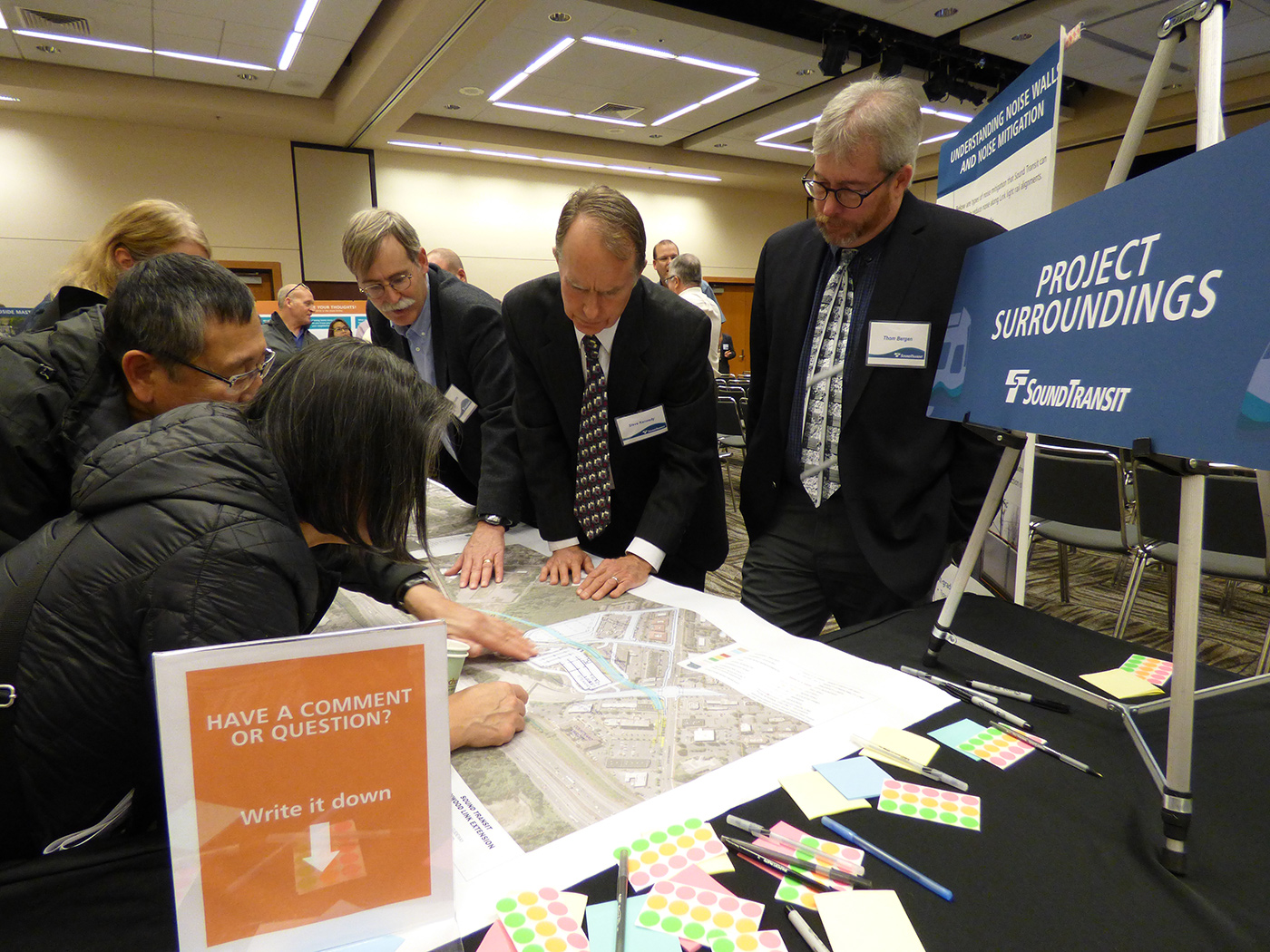 Project team and members of the public review documents at the 30 percent station design open houses in November 2016.
In November of 2016, the LLE project outreach team hosted three open houses and an online open house featuring the 30% station designs an update on project progress and an opportunity for public comment. Over 4,000 people actively engaged with the project during this time both in person or online.
Project staff received over 175 comments and answered many questions during these open houses. Topics included ridership, pedestrian and bike access, bus coordination, parking and general excitement about the project. All comments gathered from the public are being shared with the project design team as they continue with 60% design.
Coming up next will be an additional opportunity for public involvement when the project reaches the 60% final design milestone, anticipated for this spring. If you were not able to make the November 2016 open houses or are interested in reviewing the materials displayed, please visit our document archive.
Participation by the numbers
More than 400 people attended three public open houses
More than 3,750 participants visited an online open house
177 narrative, written comments gathered in-person and from online comment forms
More than 650 station name suggestions submitted online and in-person
Ongoing fieldwork
Work will continue in 2017 and you may see crews in your neighborhood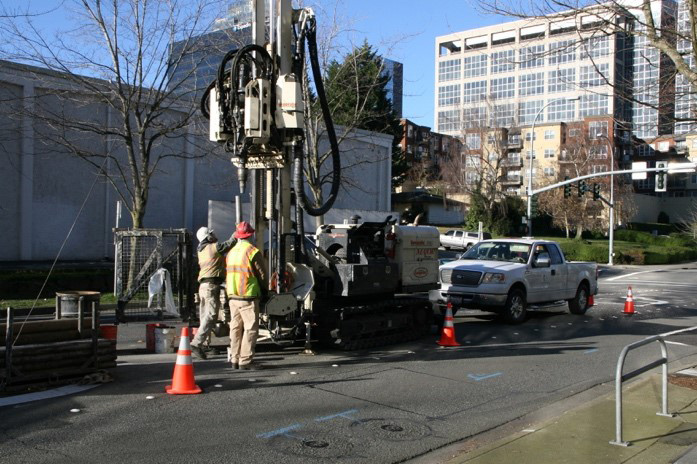 A construction crew uses geotechnical drilling equipment.
During 2017, Sound Transit will continue to collect information from the field to inform our final design engineers or project staff. You may see teams with orange vests and hard hats near the Interstate 5 corridor between Northgate and Lynnwood completing a variety of work activities including utility potholing, geotechnical drilling, and land and tree surveys.  For descriptions of these types of work, please look back to our May 21, 2015 project update.
Our Community Outreach team will be reaching out to notify property owners in advance of work where necessary and if you have questions, please give us a call at 206-398-5300 or send us an email.