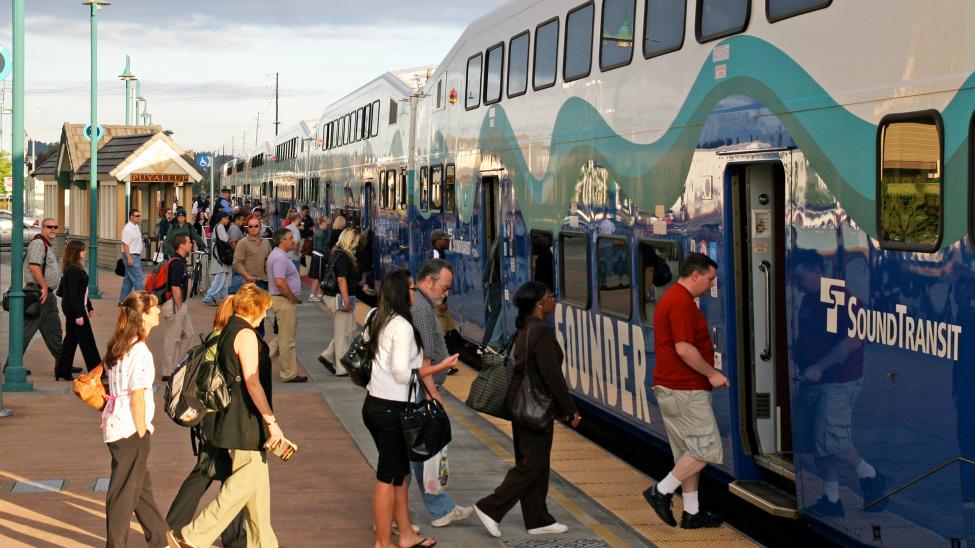 Hiring of team to build new garage under way
Earlier this year Sound Transit released a Request for Qualifications to procure a design-build contractor to finish designing and then construct the Puyallup Station garage. After evaluating the proposers, Sound Transit has selected several firms to advance to the next stage of the procurement process. A winning bid will be selected later this year, with construction scheduled to begin in early 2020. 
Artist chosen for Puyallup garage
Sound Transit includes artist-designed features into transit facilities that create a positive experience for riders. Seattle artist Preston Singletary has been selected to create artwork for the new parking garage at Puyallup Station, chosen by a panel that included a member of the Puyallup Arts Commission and arts and design professionals from the community. 
Singletary's work combines glass with themes inspired by his Tlingit cultural heritage. Over the next several months, Singletary will be developing an artwork design for the Puyallup community that will be integrated into the new garage.
Sound Transit in your community
Curious what's happening with the new garage or other Sound Transit news? Come talk to Sound Transit staff when we're in your neighborhood:
You can also reach out anytime with questions: Melanie Mayock, Community Outreach Specialist: (206) 689-4877, Melanie.Mayock@soundtransit.org. 
Weekend Sounder trains – not just for sports fans
Want to take your kids to the Seattle Aquarium, Seattle Center fountains or an out-of-town guest to Pike Place Market and the Space Needle? We all know driving to Seattle can be tough on weekends, not to mention the cost of parking. But there is another way. 
Sound Transit runs Sounder trains from Lakewood to Seattle on many weekend day games when the Mariners, Sounders FC or Seahawks are in town. You don't have to attend the game to ride the train – take the opportunity to explore Seattle for a few hours without having to drive! 
Check the Sound Transit calendar to see when we're running special game trains. Upcoming dates include June 23, July 7, July 21, July 28, and August 10. For more details and information, check our blog post.