One-Lane Temporary Traffic Control on 120th Avenue NE in BelRed area of Bellevue for sewer work: Updated Work Hours
Body
Update:  Crews are working hard to get the King County sewer by-pass work completed by Tuesday, July 3.  In order to do so, crews will be working the following 12-hour shifts, beginning Wednesday, June 27:

Monday – Friday, 6:00 a.m. to 6:00 p.m.
Saturday: 6:00 a.m. to 6:00 p.m.
Sunday: 6:00 a.m. to 6:00 p.m.

City of Bellevue has approved these extended hours.

On Monday, June 25, Sound Transit's contractor Hensel Phelps installed a temporary, one-lane, signalized, traffic control system on a small section of 120th Avenue NE.  Northbound and southbound traffic is controlled, one direction at a time, to one lane with a temporary signal to let traffic through (see photo).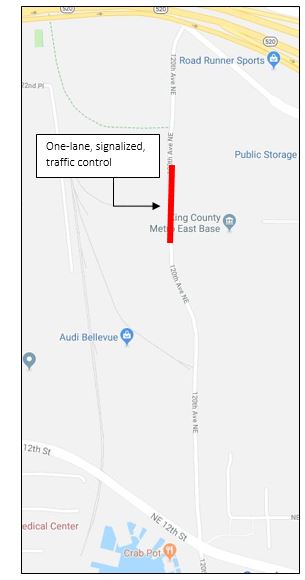 Crews are installing a sewer by-pass in the roadway. Traffic will re-open to two-way traffic by July 3, 2018.