PROJECT UPDATE: East Link Extension
Body
Agreements pave way for East Link construction  
Last week, Sound Transit and City of Bellevue leaders finalized agreements on an amended Memorandum of Understanding (MOU) that allows the agency to move forward with construction of the East Link Extension. The MOU minimizes construction and operations impacts to neighborhoods, confirms Bellevue's financial contribution to a downtown tunnel and promotes the city's Bel-Red Corridor land use vision for transit-oriented development.
The original MOU from 2011 outlined up to $160 million in City of Bellevue contributions to a downtown Bellevue light rail tunnel. Since then, Bellevue and Sound Transit officials have worked continuously to find ways of reducing costs and increasing certainty for the project. Through that process, the agreement finalizes Bellevue's contribution at $100 million. In addition to finalizing the city's financial contribution to the project, which ensures inclusion of the downtown tunnel and other mitigation measures in the project design, the MOU includes terms surrounding the potential Operations and Maintenance Satellite Facility (OMSF) site in Bellevue. The updated MOU has provisions to address the potential OMSF and its impact on the transit-oriented development that is the centerpiece of the city's long range plan for Bel-Red.
Construction of the East Link Extension is anticipated to begin in downtown Bellevue in the first half of 2016.
With the terms of the MOU set, the Sound Transit Board last week adopted a $3.6 billion lifetime budget for East Link. The baseline budget includes a $33 million contribution from Microsoft to fund a bike/pedestrian bridge over SR 520 at the Overlake Transit Center Station and a $10 million contribution from the City of Redmond towards a pedestrian/bike bridge over SR 520 at the Overlake Village Station.  The new bridges create a direct connection to the Microsoft campus and other businesses on the north side of SR 520.
Learn more about East Link at summer fairs and festivals
The East Link Community Outreach team is coming to an event near you! Stop by our booth to ask questions and learn more about light rail coming to the Eastside. Our next event is May 31, 2015 at the Spirit of Bellevue 12K/5K race. Thanks to those who visited us at the Bellevue Breakfast Rotary Bellevue 10K/5K Run/Walk and asked questions about the East Link timeline, upcoming construction and future phases of light rail expansion.
This summer, Sound Transit is launching a public involvement process to hear what projects should be considered as candidates for a Sound Transit 3 ballot measure. Look for a mailer coming in early June to let you know how to get involved.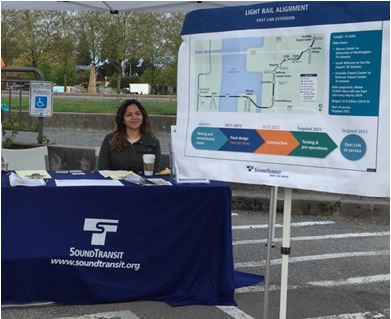 Bel-Red advanced stormwater utility relocation underway
Sound Transit's contractor began advanced stormwater utility relocation work near the NE Spring Boulevard and 136th Place NE intersection in Bellevue this week. The work is taking place in three phases and will last approximately three months. The work is one of a series of advanced utility relocations in Bel-Red by Sound Transit and multiple utility providers as preparations begin for East Link construction.
Sound Transit's utility work will be followed by Olympic Pipeline Company's utility relocation in this area beginning in the summer. Other utility relocations in Bel-Red include work by Puget Sound Energy and various telecommunications companies.
For more information or to sign up to receive 130th station-specific East Link updates, contact Abby Chazanow, Community Outreach Specialist, at eastlink@soundtransit.org or 206-398-LINK.