Project Update: Northgate Link Extension
Body
Tunneling update
Tunneling crews continue to make progress on both tunnels between the Roosevelt Station site and the U District Station site. Tunnel boring machine #1 is just south of NE 50th Street and TBM #2 is north of NE Ravenna Boulevard. TBM #1 is expected to arrive at the U District Station site by the end of October and TBM #2 by the end of the year.
Crews continue to pour the concrete base and install drainage in the future northbound tunnel between Roosevelt Station and the Maple Leaf portal.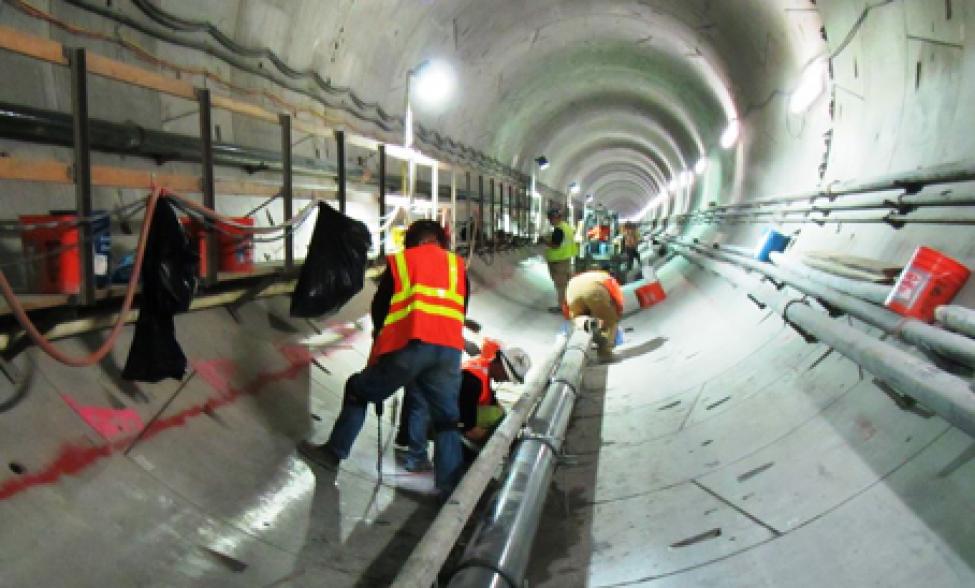 Photo caption: A tunnel construction crew lays drainage pipe in the future northbound tunnel.
First Ave NE will be closed overnight Thursday, Oct. 1
On Thursday, Oct. 1, Sound Transit's contractor will close First Avenue NE between NE 100th Street and NE 95th Street for utility relocation work. Flaggers and signs will assist vehicles around the work area. This work is needed ahead of guideway construction between the Maple Leaf portal the future Northgate Station.
Where can you find Sound Transit In October?
Sound Transit staff will be answering questions at the U District Up Your Ave event on Oct. 2. You'll be able to find us at NE 43rd Street next to the U District Station construction wall. Stop by to find out how you can win autographed Seahawks memorabilia.