Provide your feedback online
Body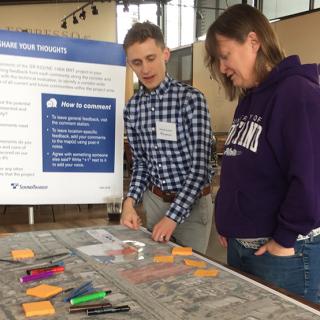 Our online open house is now live. Please visit sr522brt.participate.online by Feb. 11 to learn more about the preliminary refinements for the SR 522/NE 145th Bus Rapid Transit (BRT) Project and to share your thoughts. If you'd like to learn more about the project in-person, please join us later this week at one of the following events:
Drop-In Session #1
Wednesday, Jan. 30, 1 – 8 p.m.
Shoreline Unitarian Universalist Church // 14724 1st Ave. NE., Shoreline, WA 98155
Drop-In Session #2
Thursday, Jan. 31, 1 – 8 p.m.
Kenmore City Hall // 18120 68th Ave. NE., Kenmore, WA 98028
During these drop-in sessions, you'll have the opportunity to:
Learn how your input from the September/October 2018 community workshops informed the preliminary refined project.
Give feedback on the preliminary project refinements.
Talk with project staff to learn more about next steps and share your ideas.
Visit sr522brt.participate.online to RSVP for one of the drop-in sessions, learn more about the project, and share your thoughts with us online, especially if you cannot make it in person. We'll collect feedback through Feb. 11, 2019.
More about SR 522/NE 145th BRT Project
The SR 522/NE 145th BRT Project will provide fast, frequent and reliable bus-based transit service from north Lake Washington communities to the future Shoreline South/145th Link light rail station at NE 145th Street and Interstate-5 (I-5). Riders will be able to connect to and transfer between the SR 522/NE 145th BRT, I-405 BRT, Link light rail and other transit services provided by Sound Transit, Community Transit and King County Metro. 
In 2018, Sound Transit began to evaluate and refine the representative SR 522/NE 145th BRT Project identified in the voter-approved Sound Transit 3 (ST3) plan based on technical analysis and stakeholder input. In March 2019, Sound Transit will present the preliminary refined project to the Sound Transit Board of Directors and begin conceptual engineering and environmental review.
Project schedule
Planning for this project is underway and your participation is important. To start construction as fast as possible, the project team has established an ambitious planning and environmental analysis timeline. 
Throughout 2018, staff engaged with neighboring communities to learn about their priorities and ideas for the project. In 2019, the project team will continue community outreach to gather feedback to help inform the project design. 
Thank you for being engaged throughout this planning process – your feedback is essential to shaping the project!