Remember, OMF South public meetings start this week!
Body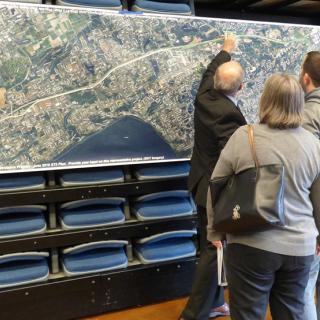 Visitors at an open house in April 2018.
We want to hear from you on where to place a new Operations and Maintenance Facility (OMF) in the South Sound. Attend an in-person open house to learn about potential OMF sites, hear a presentation, ask questions to Sound Transit staff and provide comments. Stop by any time during one of two in-person open house events from 6-8 p.m. A short overview presentation will be offered at 6:30 p.m.
Can't join us in-person? Comment through April 1
There are several ways to provide comments during this time:
Comment online: OMFSouth.participate.online.
Mail: Sound Transit, Environmental Planner Hussein Rehmat, 401 S. Jackson Street, Seattle, WA 98104
Leave a voicemail: 206-398-5453
What is an Operations and Maintenance Facility (OMF)?
An OMF is where trains go for cleaning, storage and maintenance and operates 24 hours a day, 365 days a year. Light rail can't operate effectively in the South Sound without an additional OMF in South King County. Finding sites is challenging, as Sound Transit requires at least 30 relatively flat acres (for reference, 1 football field is 1.3 acres) that are near an operating light rail line, with specific site conditions often pushing the acreage requirement higher. 
One OMF currently exists in Seattle, and another facility is under construction in Bellevue. To accommodate additional vehicles for the future 116-mile voter-approved regional light rail system, the system requires an additional OMF in the South Sound and one in Sound Transit's North Corridor.