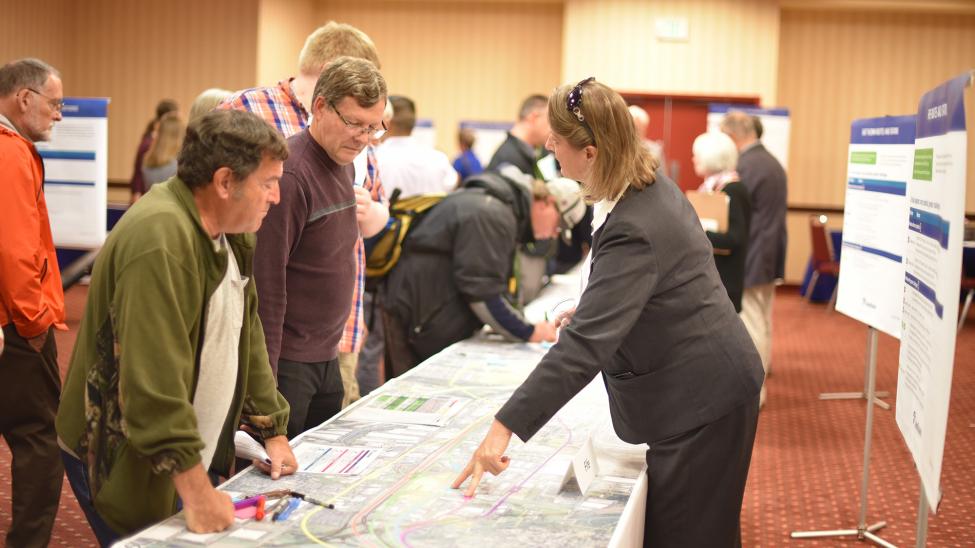 Remember, TDLE public meetings start this week!
Body
We want to hear from you on potential routes and stations for the Tacoma Dome Link Extension (TDLE). Attend an in-person open house to learn about the latest options, hear a presentation, ask questions and share your comments. All three events are from 6-8 p.m. Stop by anytime! A short overview presentation will be offered at 6:30 p.m.
Tuesday, April 16 // Fife Community Center
2111 54th Ave E, Fife, WA 98424

Meet us at the community center.
Parking is provided adjacent to the building, and ADA parking is available.

Wednesday, April 17 // Greater Tacoma Convention Center
1500 Commerce St, Tacoma, WA 98402

Meet us in room 315.
Paid parking lots, paid street parking, and transit options are available.

Tuesday, April 23 // Federal Way Performing Arts and Event Center
31510 Pete von Reichbauer Way South, Federal Way, WA 98003

Meet us in the lobby.
Located near the Federal Way Transit Center Park & Ride.
Parking is provided adjacent to the building, and ADA parking is available.
Can't join us in-person? Comment through May 1
There are several ways to provide comments during this time:
What is TDLE?
This project will extend the regional light rail system nearly 10 miles via mostly elevated tracks between Federal Way and Tacoma. It includes four new light rail stations in areas near south Federal Way, Fife, east Tacoma, and the Tacoma Dome.
Stations will provide connections to other transit services in the region such as Sounder, Tacoma Link, Sound Transit Express, King County Metro, Pierce Transit, Intercity Transit and Amtrak.
Stations will feature pickup and drop-off zones and provide access for those travelling by foot, bike, paratransit and other modes.
The future South Federal Way and Fife stations each include approximately 500 parking spaces.
What are the benefits of regional light rail?
When Tacoma Dome Link service starts in 2030, it will offer fast and frequent travel to destinations across the region including:
South Federal Way to Tacoma Dome Station in 20 minutes.
Fife to Tacoma Dome Station in six minutes.
Tacoma Dome Station to Sea-Tac Airport in 35 minutes.