Reminder: Long-term closure on 110th Ave NE scheduled to begin Oct. 9
Body
A Sept. 19 construction alert stated the closure would begin in early October. Since then, Oct. 9 has been identified as the targeted start date.
On Monday Oct. 9, Sound Transit will begin a long-term closure of a portion of 110th Avenue Northeast between Northeast 4th and Northeast 6th streets. The closure is needed to build the Link light rail north tunnel portal near Bellevue City Hall.
The closure on 110th Avenue Northeast will occur in multiple phases:
Phase 1 (October 9, 2017 - approximately Spring 2018). Scheduled to last about nine months, phase 1 requires the closure of all lanes on 110th Avenue Northeast illustrated in the work area graphic. Access to the City Center Plaza parking garage will be maintained.
Phase 2 (approximately Spring 2018 – Winter 2018). One lane of traffic on 110th Avenue Northeast will be reopened in both the north and southbound direction.
Phase 3 (approximately Winter 2018 – Spring 2019). Phase 3 again requires a full closure of all lanes on 110th Avenue Northeast in the work area as utilities are reinstalled and the roadway restored.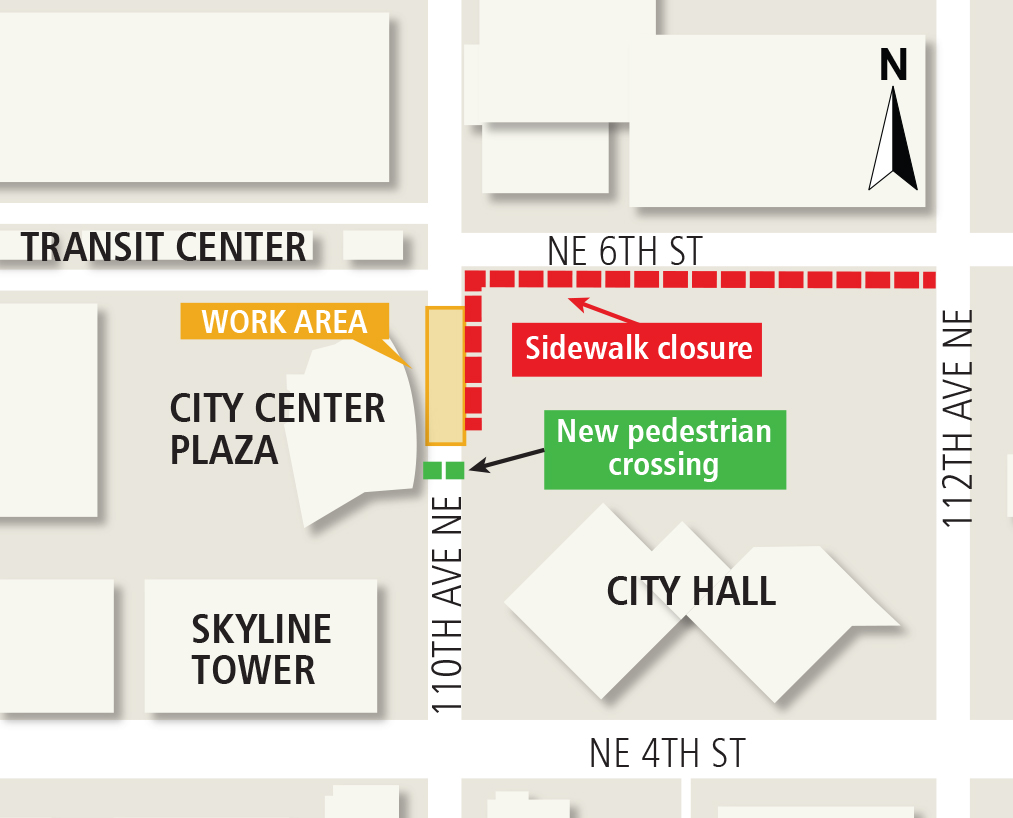 What to expect
Work will occur between 7 a.m. and 6 p.m. Monday - Friday.
Sidewalks will be closed along the east side of 110th Avenue Northeast adjacent to the work area and on the south side of Northeast 6th Street. A temporary mid-block crosswalk will be added just south of the work area to facilitate pedestrian access across 110th Avenue Northeast.
A uniformed police officer will direct traffic as needed.
The Bellevue Transit Center will remain open.
Barriers and signage will prohibit vehicles and pedestrians from entering the work zone. Detour signage will be in place.
The loudest activities will occur at the beginning of the closure when vacuum trucks are used to remove soil and safely expose underground utilities. 
Background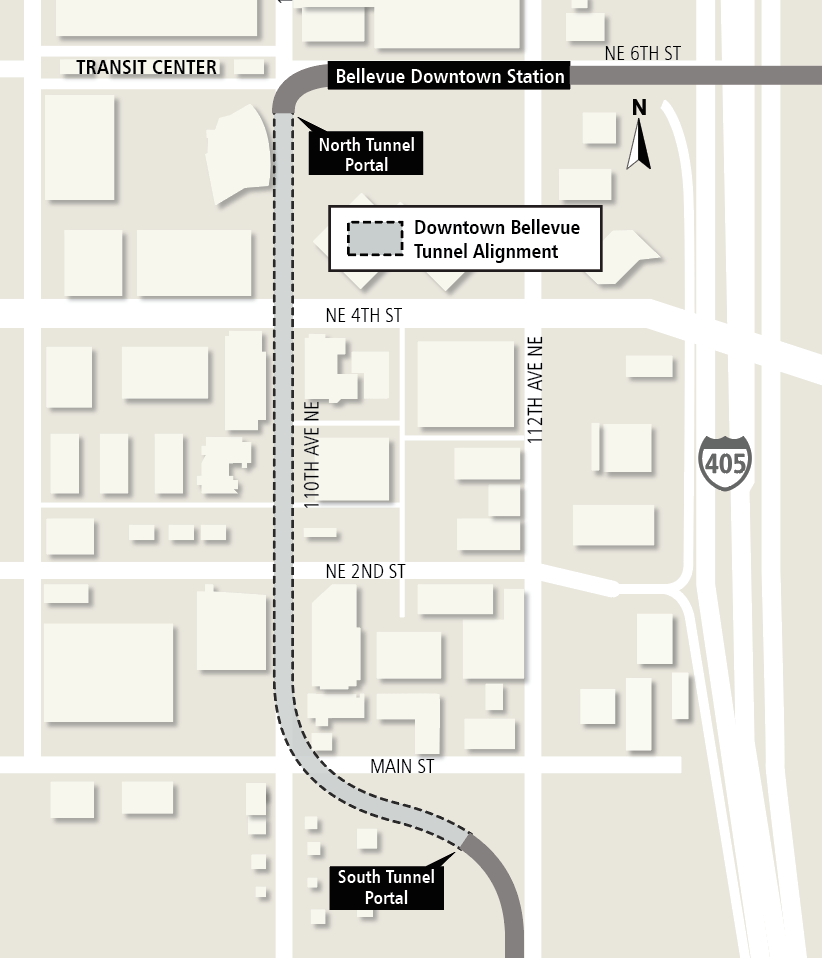 Last summer, Sound Transit's tunneling contractor closed a larger portion of 110th Avenue Northeast to prepare the soil underneath the roadway for tunneling and construction of the north tunnel portal.
This fall's closure footprint is similar, but smaller compared to what was previously in place. City Center's parking garage access from 110th Avenue Northeast will be maintained, whereas it was closed during the previous work.