Ronald Bog Park wetland mitigation work
Ronald Bog Park will be closed as early as July 1st as Sound Transit begins construction of wetland mitigation. Sound Transit is using an area of Ronald Bog Park for a wetland mitigation site to replace wetlands affected by light rail construction. Enhancements to the park, including trail improvements will be made as part of the project.
What
Ronald Bog Park will be closed to the public.
Wetland buffer areas will be fenced off indefinitely for wetland creation.
The work includes tree removal and excavation to create new low areas, then planting of trees, shrubs and groundcover plants.
Sound Transit will build a new ADA-accessible Trail featuring interpretive signs to enhance the enjoyment of the park (see map).
Sound Transit will also install fencing, signs, benches, bollards and habitat structures.
When
As early as July 1 until end of fall for a duration of 18-20 weeks. 
Work hours are from 7 a.m. to 5 p.m.
Where
Ronald Bog Park. 2301 N 175th Street, Shoreline, WA  98133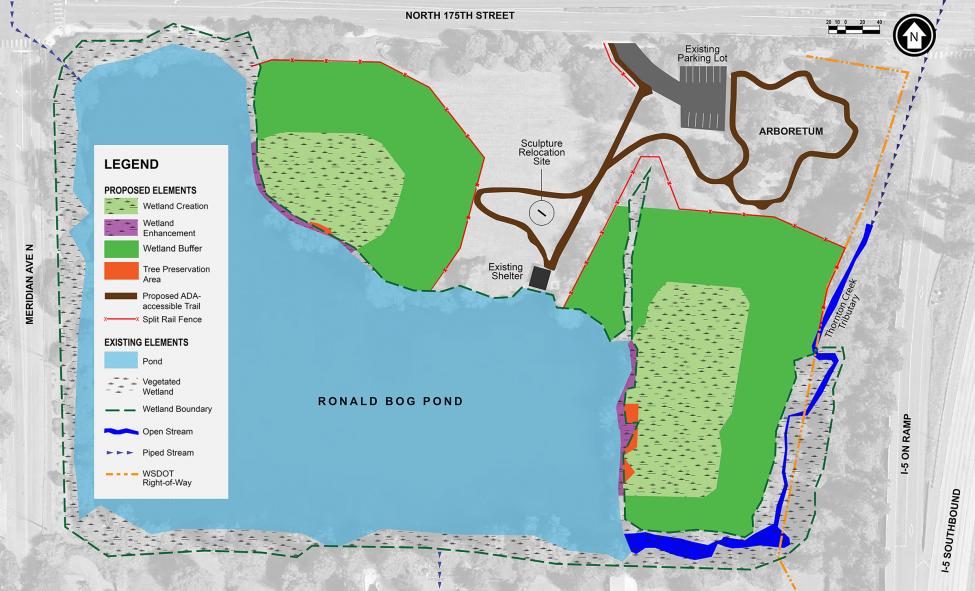 For more information
Community Outreach: My Nguyen, lynnwoodlink@soundtransit.org or 206-370-5690.
24-hour construction hotline: 1-888-298-2395.