Site preparation continues at Enatai Beach Park
Body
Now that fencing has been installed at Enatai Beach Park, Sound Transit's contractor will begin mobilizing equipment at the work zone. A driveway connecting 106th Avenue Northeast to the work zone will be installed beginning as early as Monday, Oct. 30 and lasting for approximately one week.
To safely complete this work, crews will temporarily use a lane of 106th Avenue Southeast. Traffic will be reduced to an alternating single lane operation with flaggers to help you safely reach your destination.
In the coming weeks, crews will begin installing supply shacks and construction trailers within the existing work zone. See below for more information.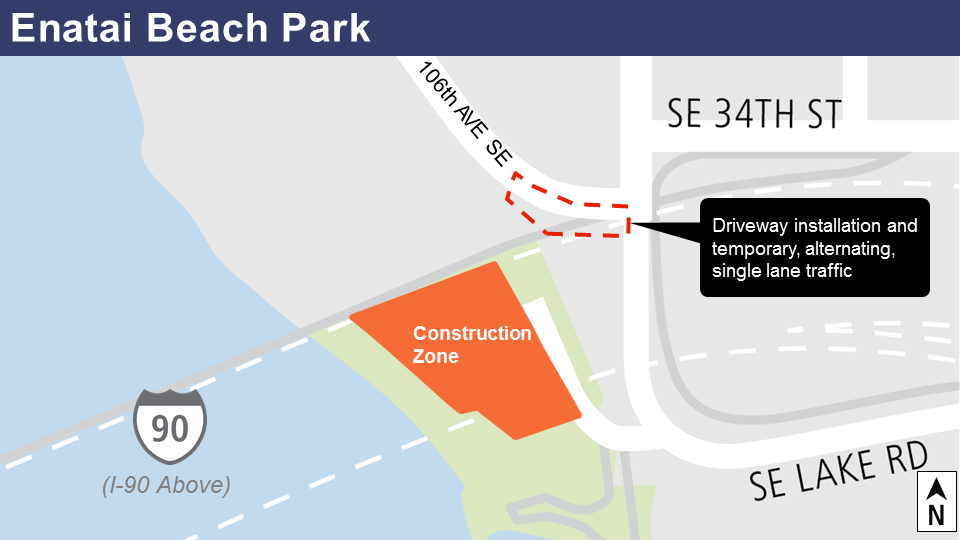 Here's what you can expect:
Work hours will be: 7 a.m. – 3 p.m. Monday – Friday and 9 a.m. – 6 p.m. Saturday.
Crews will demolish portions of existing sidewalk and curb and will replace with an asphalt driveway. The work zone will be restored once East Link construction is complete.
Dump trucks, asphalt trucks and support vehicles will be entering and exiting the site.
106th Avenue Southeast will be reduced to an alternating one lane operation. Vehicles, pedestrians and cyclists should follow signed detours and flaggers to safely access your destination.
Potential intermittent noise and vibration from construction activities may be noticeable.