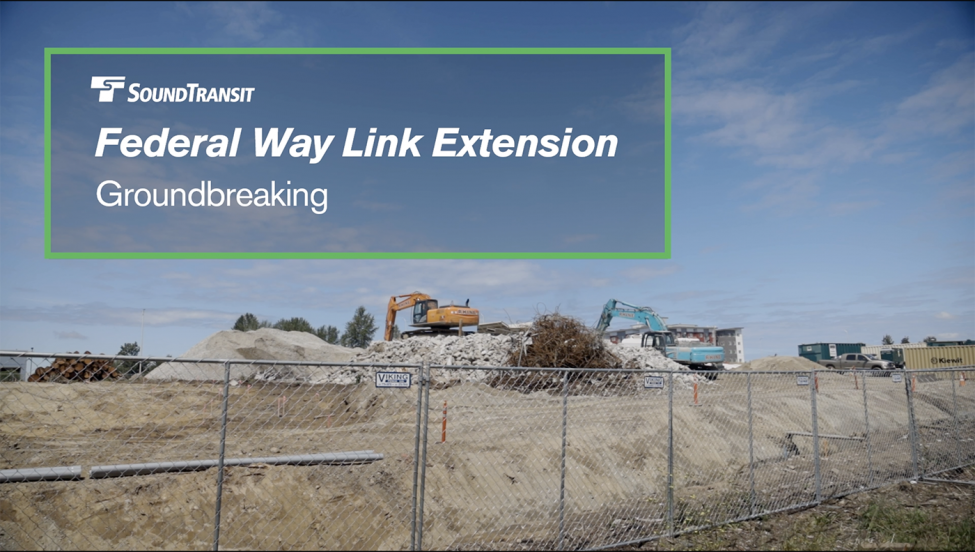 Sound Transit holds virtual groundbreaking ceremony on Federal Way Link Extension
Today we're celebrating a thrilling milestone for our region that's been years in the making: the start of construction on the Federal Way Link Extension! This project will add 7.8 new miles to our regional light rail system, connecting Angle Lake Station in SeaTac to the Federal Way Transit Center.
While we usually commemorate groundbreakings with in-person ceremonies, COVID-19 safety protocols have challenged us to celebrate a little more creatively this year, and we think you'll enjoy the results. Check out our virtual groundbreaking video here (subtitles available in Spanish, Korean, Russian, Vietnamese and Simplified Chinese).
In partnership with our design-build contractor Kiewit Infrastructure West Company and regional leaders, we've put shovels to ground on our commitment to connect more people to more places across the Puget Sound. When this new Link light rail extension opens in 2024, even more riders will enjoy frequent and reliable service from three new stations serving Kent, Des Moines and Federal Way. 
Sound Transit plans to operate trains every six to eight minutes during weekday peak hours. Commuters from the Federal Way Transit Center will enjoy 15-minute rides to Sea-Tac Airport and 42-minute rides to downtown Seattle from Kent/Des Moines. 

Next year we'll also launch new light rail service to Seattle's University District, Roosevelt and Northgate. In 2023, Link will reach Mercer Island, Bellevue and Overlake. Then we'll be expanding to Lynnwood, Kent/Des Moines, Federal Way and downtown Redmond in 2024. 
You can find more information on the Federal Way Link Extension at soundtransit.org/fwlink.