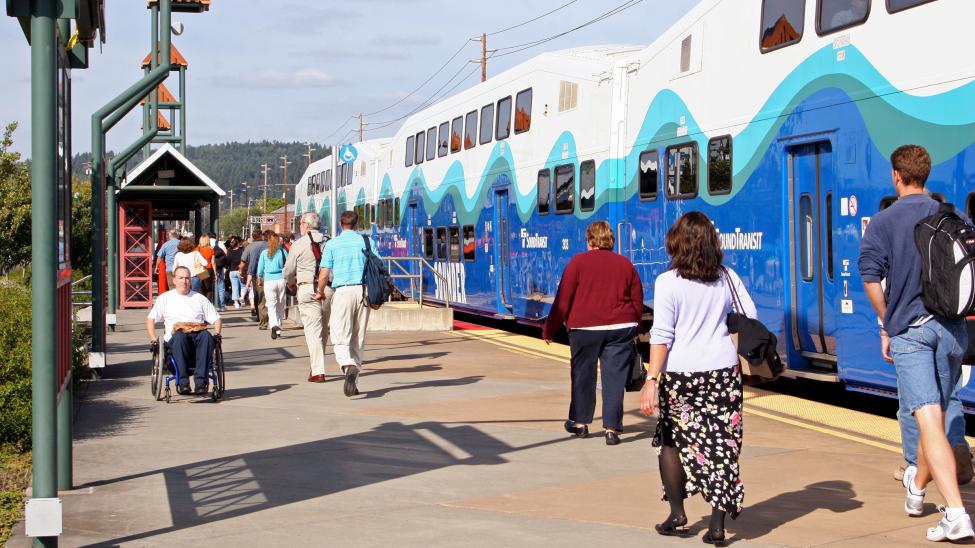 Sound Transit in your community
Curious what's happening with the new garage, Sounder service, or other Sound Transit news? Come get the latest update from Sound Transit staff at these events:
City of Sumner Open House: June 25. Drop by anytime 5:00-8:00pm at City Hall, 1104 Maple Street. 
Sumner Rhubarb Days: July 27-28. 10 a.m.-5 p.m., 1000 Main Street, downtown Sumner.  
Can't make it to these events? Our next newsletter will share updates from the open house. Or contact Melanie Mayock, Community Outreach Specialist: (206) 689-4877, Melanie.Mayock@soundtransit.org.
Weekend Sounder trains – not just for sports fans
Want to take your kids to the Seattle Aquarium, Seattle Center fountains or an out-of-town guest to Pike Place Market and the Space Needle? We all know driving to Seattle can be tough on weekends, not to mention the cost of parking. But there is another way. 
Sound Transit runs Sounder trains from Lakewood to Seattle on many weekend day games when the Mariners, Sounders FC or Seahawks are in town. You don't have to attend the game to ride the train – take the opportunity to explore Seattle for a few hours without having to drive! 
Check the Sound Transit calendar to see when we're running special game trains. Upcoming dates include June 23 (this Sunday!), July 7, July 21, July 28, and August 10. For more details and information, check our blog post.