Steel pole foundation work on 5th Avenue Northeast
Starting as early as June 24th, Sound Transit will close 5th Avenue Northeast to a full lane closure from Northeast 180th Street to Northeast 185th Street as part of the Lynnwood Link Extension early work construction. Sound Transit will be setting heavy equipment and drilling shafts for steel pole foundations. There will be flaggers on site of the construction work zone to keep traffic moving for local access.
What
A steel pole will be delivered and staged at construction work area while crews are working to set the foundation for the steel pole.
Crews will draft shafts for steel pole foundation that will cause construction noise.
When
As early as June 24th, work will remain for approximately two weeks.
Work hours are from 7 a.m. to 5 p.m. Monday to Friday. 
Work hours are from 9 a.m. to 9 p.m. night and weekend work will occur if necessary to complete work before July 4th.
Where
Northeast 180th Street and 5th Avenue Northeast to Northeast 185th Street and 5th Avenue Northeast (see map)
Local access only from Northeast 180th Street to Northeast 183rd Court
Detour routes will be in place to drive around work area (see map)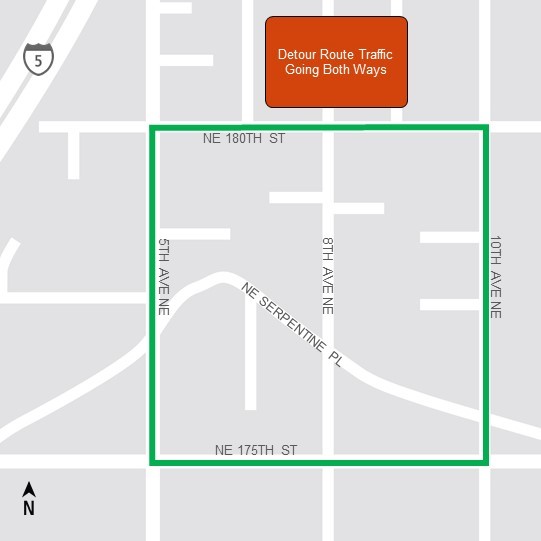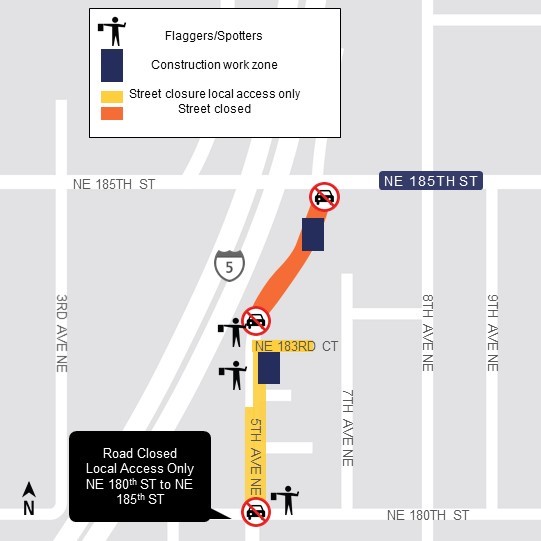 Contact us
Community Outreach: My Nguyen, lynnwoodlink@soundtransit.org or 206-370-5690
24-hour construction hotline: 1-888-298-2395