Thanks for engaging with us throughout 2018!
Body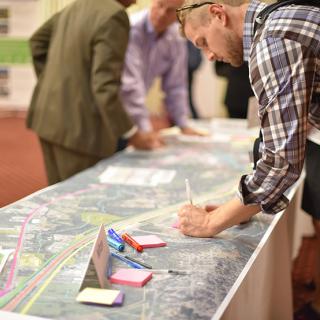 Sound Transit has been working with the public since early 2018 to develop route and station alternatives for the Tacoma Dome Link Extension from the Federal Way Transit Center to the Tacoma Dome.
We have a big year coming up! In 2019, the public will have another opportunity to provide comments on latest narrowed list of route and station options as we enter the next official comment period.* Stay tuned for specific dates and in-person meeting details.
You will also have the opportunity to provide feedback on the Operations and Maintenance Facility: South (OMF South) site options between the cities of Kent and Federal Way. OMF South will support the maintenance and operations of the 116-mile regional light rail system expansion.
*The upcoming 30-day environmental scoping public comment period marks the beginning of two formal Environmental Impact Statement analysis for each of the projects.
Want to learn more? Stop by!
Sound Transit staff be hosting community office hours in your area to discuss the Tacoma Dome Link Extension (TDLE) and Operations and Maintenance Facility: South and other projects in the South Sound, including Hilltop Tacoma Link Extension and the Sounder Capacity Expansion Program. Stop by to meet outreach staff and ask questions. Visit us at the locations and dates listed below:
2019 Regional Reports are here
Check out progress Sound Transit is making to expand the regional system. South King County and Pierce County editions of the 2019 report updating you on the status of your tax investments can be found online and in your mailbox. 
These reports are just one way you can stay informed. When you go online, you can see more details and subscribe to updates about Hilltop Tacoma Link Extension, TDLE, OMF South, and other projects that may interest you.
More about TDLE
The voter-approved system expansion extends regional light rail from Federal Way Transit Center to the Tacoma Dome Station area, with four stations at South Federal Way, Fife, East Tacoma and Tacoma Dome. Door-to-door, this project will mean 35 minutes from Tacoma Dome to SeaTac Airport; light rail will allow you to reliably fly through traffic. Light rail operations are expected to begin in 2030.
More about OMF South
To serve the expanding regional Link light rail system, additional operations and maintenance facilities (OMF) are needed to efficiently operate the long-term light rail vehicle fleet. The central OMF in Seattle is in operation now, the east location is under construction in Bellevue, and two new facilities are needed in the north and south. The OMF South will support overall light rail system expansion.
Link vehicles must be cleaned and stored every night and regularly pulled out of service to perform maintenance. Operations and maintenance facilities support efficient light rail operations and station maintenance.