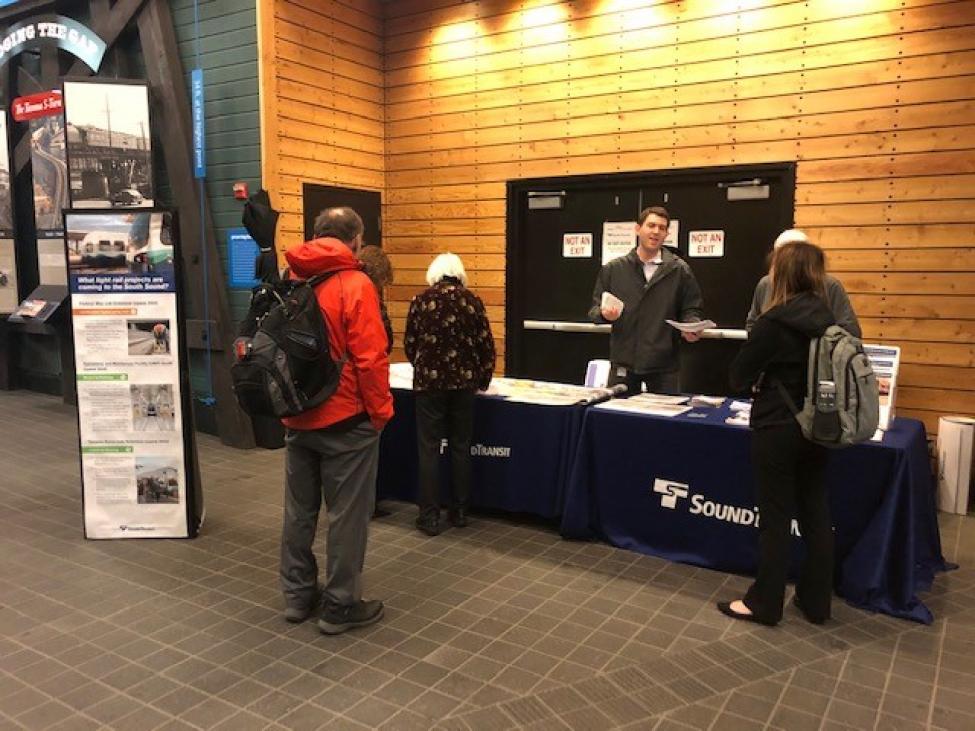 Thanks for joining us last fall! 
In November we shared an Operations and Maintenance Facility South update, including a status report on potential sites. Thank you to everyone who came out to say hello at a drop-in session or joined us online to learn more about the project. Here are a few highlights from the outreach period: 
More than 250 people joined us at our five drop-in sessions. 
In our conversations, many of you asked about the decision process and how each site will be analyzed.
More than 1,600 people visited our online drop-in session from Nov. 12 to Dec. 6.
What we accomplished in 2019
Last year was a big one for the OMF South project! Throughout 2019, we focused on improving accessible communication, reaching diverse audiences along the corridor, and increasing transparency in the decision-making process. 
The Sound Transit Board of Directors narrowed down a list of potential OMF South sites based on public feedback and technical review. Now we're moving forward with three locations to study in the State Environmental Policy Act (SEPA) Draft Environmental Impact Statement (EIS): the Midway Landfill alternative, the South 336th Street alternative and the South 344th Street alternative. 
2019 highlights
We talked with more than 700 people at our open houses, tabling events and drop-in sessions.
More than 5,000 people visited our two online open houses.
We collected more than 2,500 comments from in-person open houses, online open houses and drop-in sessions.
Technical staff are currently considering this feedback as they prepare the Draft EIS document. 
 
What's ahead for the project in 2020? 
Since the Sound Transit Board identified the three potential OMF South sites to advance into the EIS, the project team has been confirming and refining the size, layout and orientation of each one to meet the regional light rail system's long-term needs As well as progressing forward the level of engineering to adequately analyze these sites in the Draft EIS.  
Later this year, we expect to publish the Draft EIS, which will analyze each of the three site alternatives for its benefits and impacts to the natural and built environment. This analysis includes field work for surveys and geotechnical borings to understand topography and geology. The Sound Transit Board will identify a preferred site alternative following the Draft EIS public comment period.
In the meantime, all project documents, including maps of each site, are available on the project website. To receive updates on the progress of the project, we encourage you to subscribe to our e-mail updates or to contact the project team at omfsouth@soundtransit.org or (206) 398-5453. 
 
What is the OMF South? 
Sound Transit's new operations and maintenance facility in South King County will be essential for the Link light rail expansion Puget Sound voters approved in 2016. We need this facility to store and service our growing fleet of clean, quiet, efficient electric trains as regional light rail expands from Seattle to Tacoma.
Because safe rail operations are Sound Transit's top priority, we suspend service every night between 1-5 a.m. so staff can clean trains and inspect light rail tracks. That means an OMF operates 24 hours a day, 365 days a year. Sound Transit currently operates a central light rail operations and maintenance facility in Seattle, and we're building another in Bellevue. We'll also build a fourth facility north of Seattle. 
The OMF South will have facilities sized for daily cleaning of over 140 light vehicles, and it will create 475 living-wage jobs when it opens in 2026. The average wage at our existing OMF is just over $40 per hour.