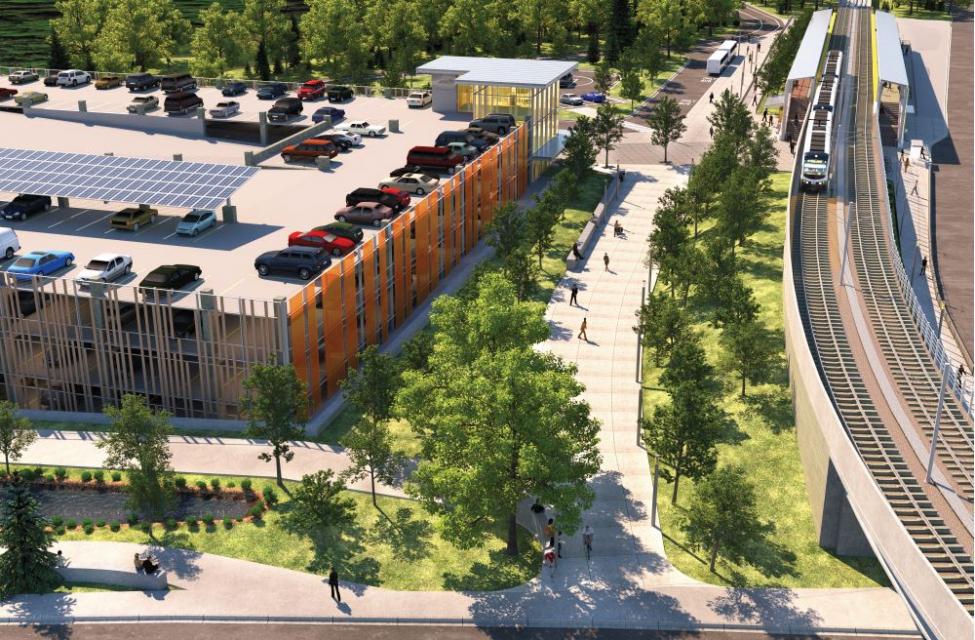 Upcoming construction activity: Star Lake Park-and-Ride closure
Star Lake Park-and-Ride closure
On Saturday, March 21, Sound Transit construction crews will permanently close the Star Lake Park-and-Ride lot and redirect commuters to the Redondo Heights Park-and-Ride. This change is to make way for the construction of a new Link light rail station and garage on the site.
Star Lake Park-and-Ride lot is the future location of the South 272nd Street Station. Sound Transit representatives will be at the Star Lake lot, beginning in late February, providing information about the closure and route changes. Star Lake Park-and-Ride users will have the opportunity to engage with staff, ask questions and sign up to receive further updates.
When the Federal Way Link Extension opens in 2024, the South 272nd Street station area will feature a new parking garage, replacing the existing surface lot. Sound Transit will rebuild a portion of South 272nd Street to improve station access for vehicles and buses, and we'll add new sidewalks and landscaping to portions of 26th and 28th avenues. We'll also build a pedestrian/bicycle path to the station plaza and connections to the existing freeway bus stop.
Structure demolition
Over the next few months you may see signs of early demolition work for the Federal Way Link Extension. We'll soon begin removing structures in order to level the ground and prepare for construction. 
The majority of this work will take place from 7 a.m. to 4 p.m., Monday through Friday. Sound Transit's Community Outreach team will contact nearby property owners in advance of the work. 
Our commitment to the community 
Major construction can be disruptive to neighborhood businesses and residents. Sound Transit is committed to being a good neighbor during construction projects. We update the community with any changes to work site or schedule as well as to temporary closures or redirection of roads, parking or any other public facilities. 
Contractors follow standard requirements when in residential areas. They will:
Maintain a safe and secure worksite.
Keep the site and the immediately surrounding area clean.
Maintain access to nearby homes and businesses.
Minimize noise and lighting impacts.
Minimize parking impacts from construction equipment and employee vehicles.
Sound Transit secures $790 million federal grant! 
Finalized last month, the critical Full Funding Grant Agreement and the $629.5 million Transportation Infrastructure Finance and Innovation Act loan from the U.S. Department of Transportation will support Sound Transit in launching construction of the light rail extension later this year.