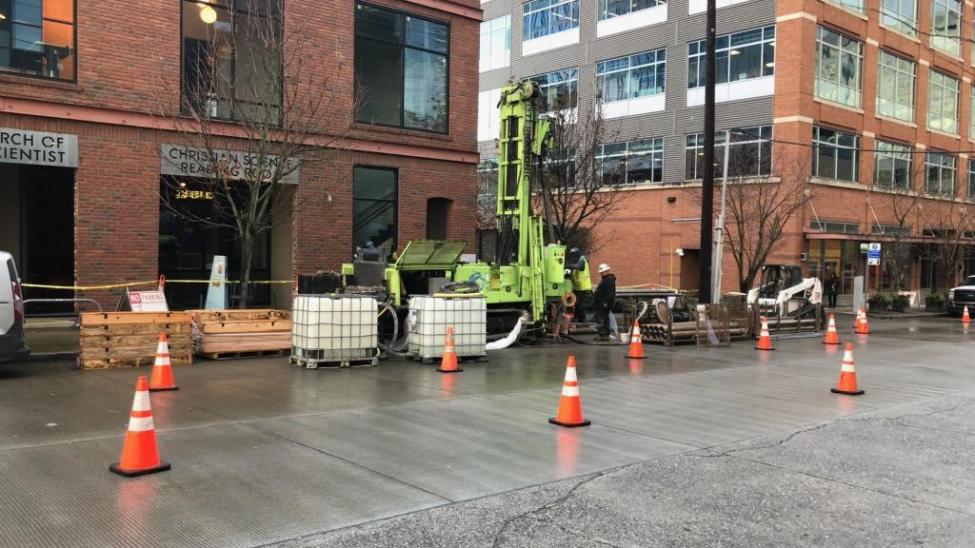 Upcoming fieldwork for the OMF South project
Over the past few weeks, you have may have seen crews conducting land and water surveys in Kent and Federal Way. These teams are working to better understand conditions at and near the three sites we're considering for our new Operations and Maintenance Facility South. In the coming weeks, crews will begin collecting soil samples using geo-technical boring equipment to explore underground conditions at the potential sites.
This work is all part of environmental review currently being conducted to prepare a Draft Environmental Impact Statement (EIS) for the project. The Draft EIS will analyze and document the three site alternatives and their potential impacts to the natural and built environment, as well as propose ways to mitigate unavoidable impacts. The Draft EIS will consider impacts on historic and cultural resources, residential properties, businesses, communities and the local economy.
Fieldwork will continue throughout the environmental review phase of the project and may include additional noise and vibration monitoring, wetland and stream surveys, cultural and historic resource surveys and more.
Depending on the type of work being done, you may see us dropping off a flyer or crews with safety vests directing you to sources for more information.
What's ahead for the project in 2020?
Through the environmental process, we designate the sites we want to study as "alternatives." The Board identified our three potential OMF South site alternatives in spring 2020 to advance into the EIS, and since then, the project team has been confirming and refining the programming requirements, boundaries and layouts of each potential site to meet the regional light rail system's long-term needs. At the same time, we're advancing designs so we can adequately analyze these site alternatives in the Draft EIS.
We expect to publish the Draft EIS later this year. Following its formal public review and comment period, the Board will then identify a "preferred site alternative." We'll continue studying the preferred alternative and other site alternatives in the Final EIS. After we publish the Final EIS in 2021, the Board will select one site alternative to construct.
In the meantime, you can view all current project documents, including maps of each site alternative, on the project website. To stay updated on our progress, subscribe to e-mail updates or contact the project team at omfsouth@soundtransit.org or 206-398-5453.
What is the OMF South?
Sound Transit's new operations and maintenance facility in South King County will be essential for the Link light rail expansion Puget Sound voters approved in 2016. We need this facility to store and service our growing fleet of clean, quiet, efficient electric trains as regional light rail expands from Seattle to Tacoma.
Because safe rail operations are Sound Transit's top priority, we suspend service every night between 1-5 a.m. so staff can clean trains and inspect light rail tracks. That means an OMF operates 24 hours a day, 365 days a year. Sound Transit currently operates a central light rail operations and maintenance facility in Seattle, and we're building another in Bellevue. As part of the ST3 Plan, we'll also build a fourth facility north of Seattle.
The OMF South will service more than 140 light rail vehicles, and we expect it to generate more than 450 living-wage jobs when it opens in 2026. The average wage at our existing OMF is just over $40 per hour.
Expanding your transit choices
By 2024, we'll open more than 20 new Link light rail stations, launching new service to Northgate, Bellevue, Lynnwood, Federal Way, Redmond and the Hilltop neighborhood in Tacoma. We'll also introduce Stride bus rapid transit on I-405, SR 518, SR 522 and NE 145th and open new parking and access improvements at Sounder stations. While we build these projects, we're also advancing plans to expand Sounder South capacity and bring more light rail to Tacoma, Everett, West Seattle, Ballard, South Kirkland and Issaquah. Explore the progress we made in 2019 and discover the future of regional transit in your area.