Art in everyday life provides positive experiences for people riding Sound Transit trains and buses, and for people living near its many transit centers. Artists respond to the local character of neighborhoods in artwork specifically created for the stations and facilities the agency operates. STart utilizes 1 percent of construction budgets, as identified in each voter-approved capital initiative, to bring a human scale and thoughtful detail into the large transportation infrastructure that Sound Transit builds.
STart, Sound Transit's art program, features artworks by nationally known artists as well as emerging public artists. Many live in the Pacific Northwest. Their work represents a diverse range of style, scale and perspective that creates welcoming and engaging places.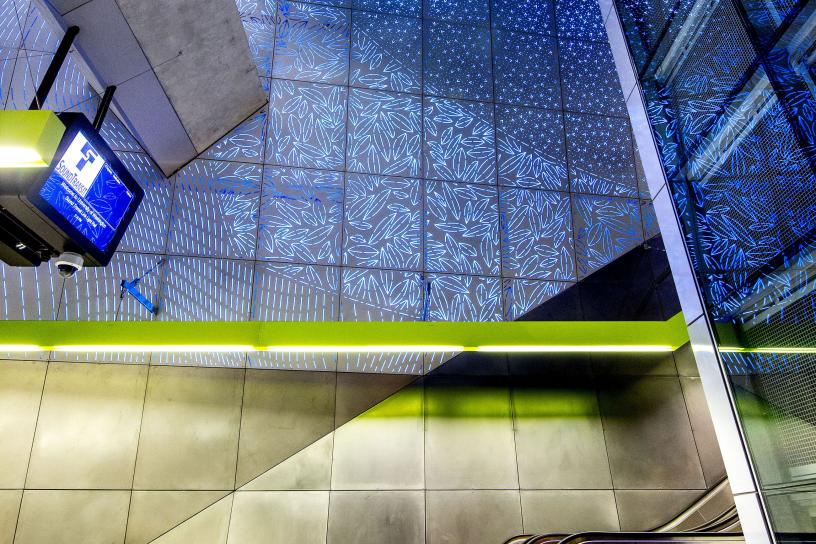 UW Station Subterranium
Berk's work is a back-lit hatch pattern three-dimensional map of the soils into which the station was cut, using his own symbolic language of hatch-patterns inspired by those used by civil engineers to describe geologic strata.
©Leo Saul Berk, 2016, "Subterranium", mezzanine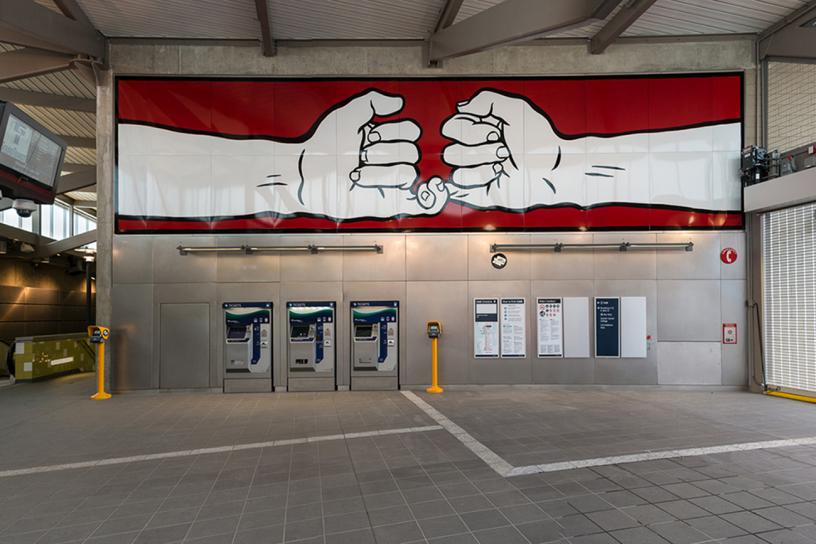 Crossed Pinkies
A seemingly simple hand gesture with many different meanings, the image lends a sense of coming together balanced by a slight tension of pulling apart. 

©Ellen Forney, 2016, "Crossed Pinkies", Sound Transit, Capitol Hill Station, north Entrance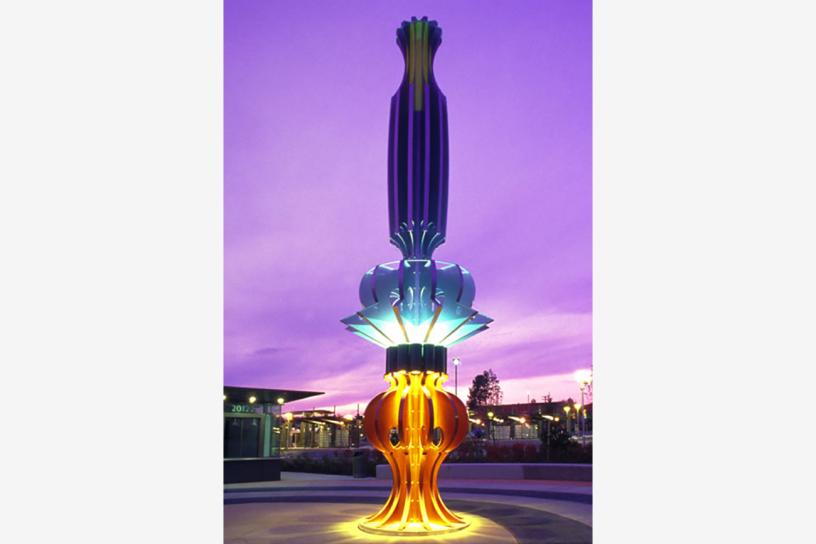 Shift
The summer sunset captures the night experience. The lighted sculpture silhouette harkens to Lynnwood's past and the early 20th century when the suburban trolley car system ran on the nearby Interurban Trail.

©Claudia Fitch, 2003, "Shift", Sound Transit, Lynnwood Transit Center, plaza
Lock on Tacoma
Known as "the Locks," this large-scale communal sculpture is integrated into Tacoma's A Street pedestrian underpass. Visitors can decorate or leave a lock on the mesh columns to commemorate an event, pronounce love or remember a loved one.

©Diane Hansen, 2013, "Lock on Tacoma" A Street underpass.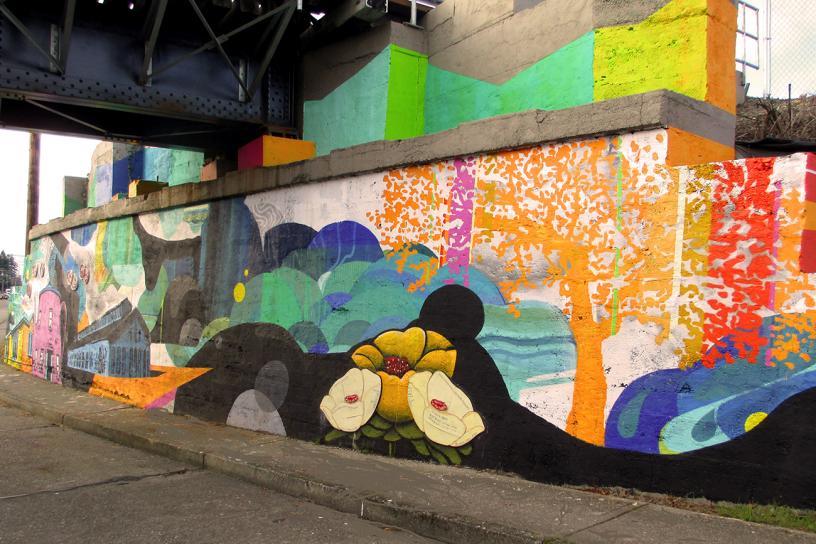 Manitou Trestle
An old airport nearby inspired Jordan and Stoll to embed topographical map contours in mural's background. Riedener stamped residents' sentiments into ceramic elements of the mural.

©Christopher Paul Jordan, ©Kenji Stoll, ©Claudia Riedener, 2014, "Manitou Trestle", S 66th Street underpass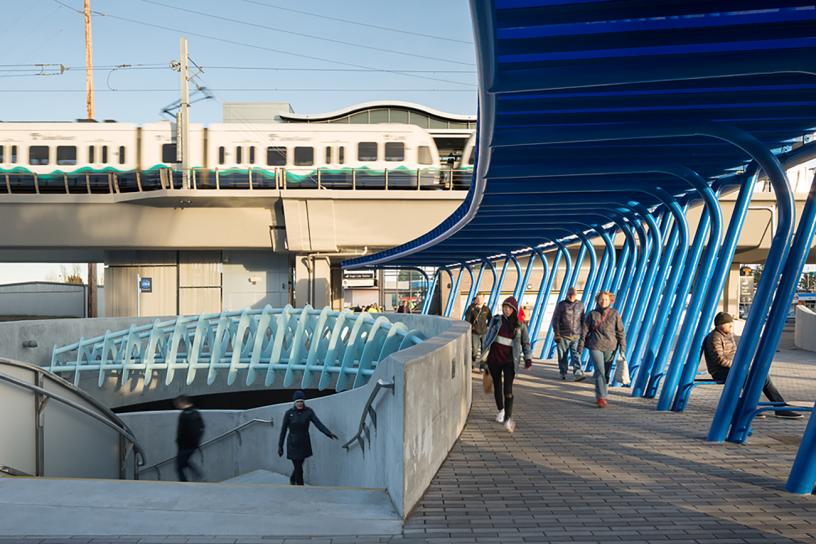 Immerse
"Immerse" appears to hang weightlessly in the Angle Lake Station plaza's grand staircase.

©Jill Anholt, 2016, "Immerse", Angle Lake Station, plaza, photographer Lara Swimmer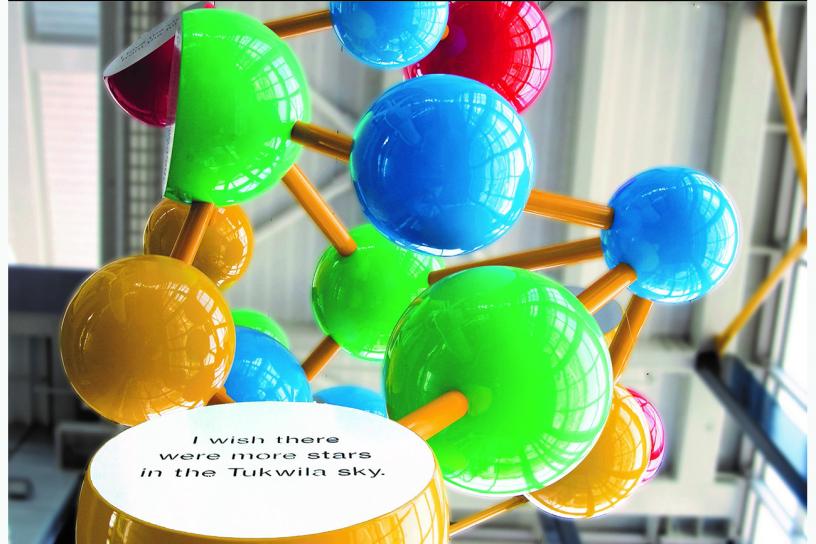 A Molecule of the Region
A water atom illustrates the core of Tukwila as well as living water, the element that provides sustenance for all creatures that pass through the region.

©Ted Savinar, 2009, "A Molecule of the Region", Tukwila International Boulevard Station, suspended over mezzanine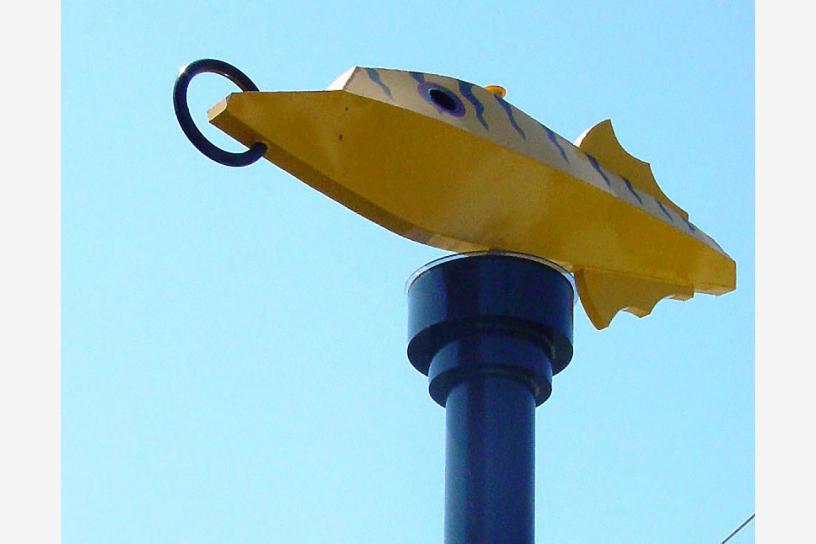 Lures
Many fishing lure manufacturing companies thrived near the Tacoma ports in the first half of the century.

©Nate Slater, 2004, "Lures", South 25th Station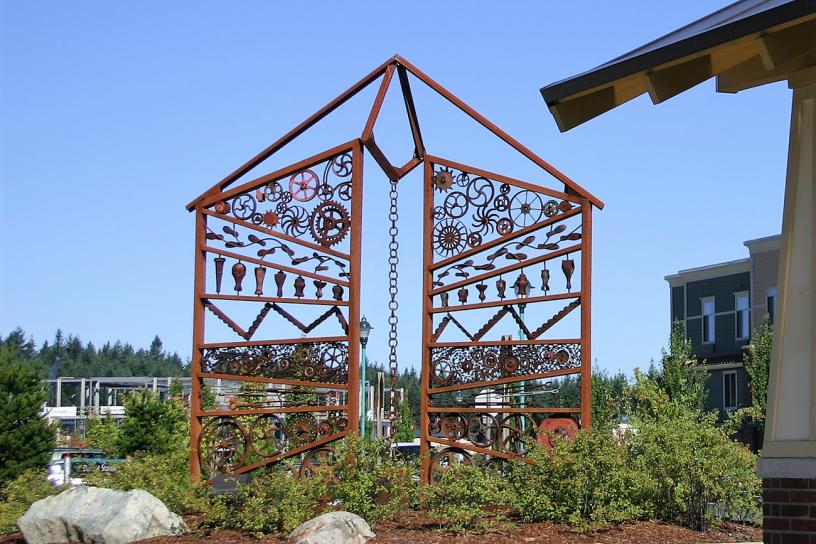 Full House
The sculpture includes boat wheels, sewing machines and farm equipment, all artifacts from DuPont's past. Stoves and bathtubs provide legs, while cast iron shoe-making forms are arranged small to large, like the child-to-adult cycle of life.

©Joyce Kohl, 2003, "Full House", DuPont Park & Ride, Plaza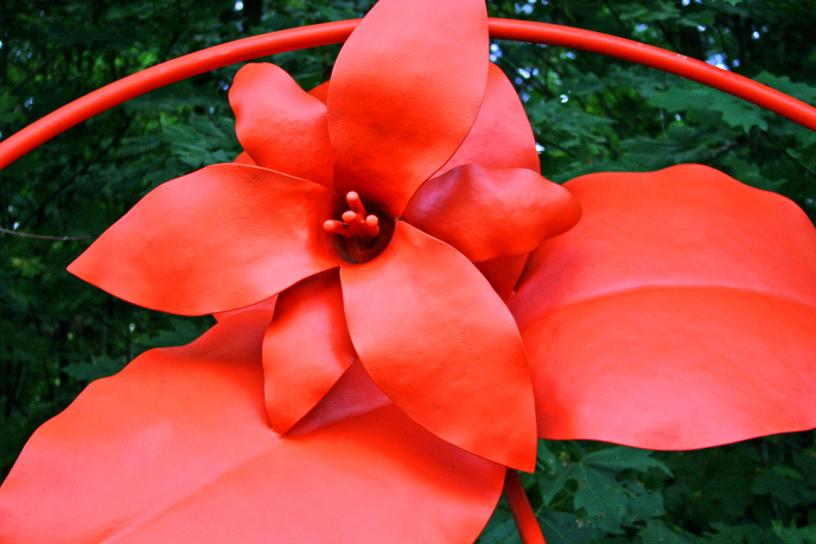 Understory
Near the Tradition Plateau trail head of Tiger Mountain, hand forged sculptures highlight fauna that can be found along the trail.

©Jean Whitesavage and ©Nick Lyle, 2003, "Understory", Tradition Plateau trail head
Image

Image

Image

Image

Image

Image

Image

Image

Image

Image