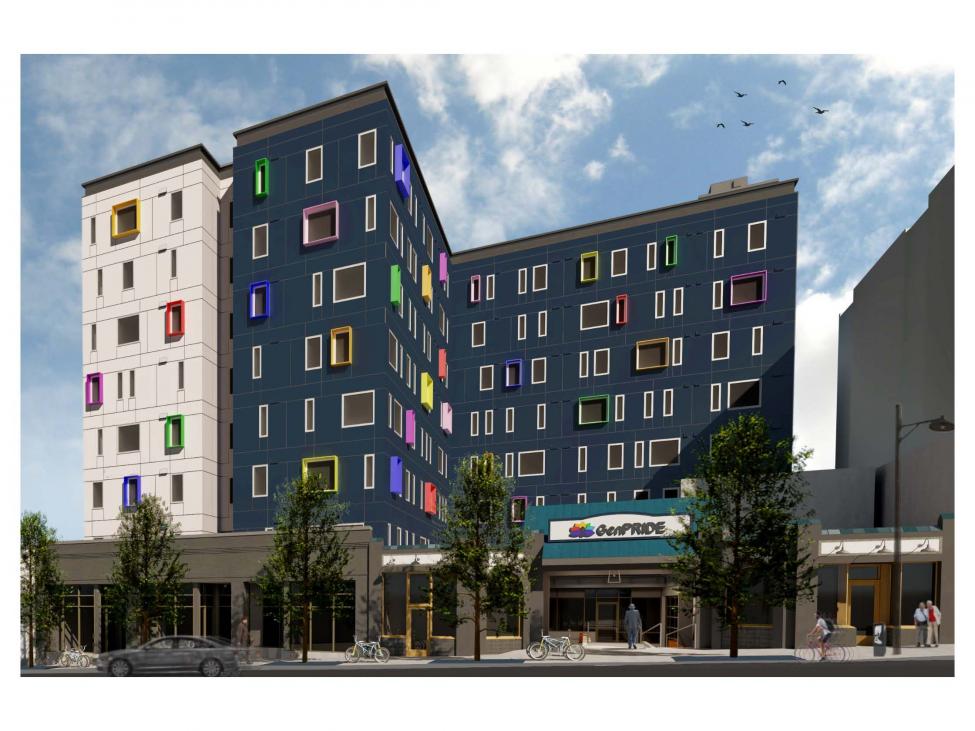 In 2019, Sound Transit and Seattle Central College agreed to swap land parcels in the Capitol Hill Station area, exchanging our station-adjacent property for two college-owned parcels near the intersection of Broadway and East Pine Street. Thanks to this exchange, we're able to help facilitate another equitable TOD project in addition to our Capitol Hill projects that opened in 2020. 
The project, developed by Community Roots Housing, will provide affordable housing and services for lesbian, gay, bisexual, transgender and queer seniors. Sound Transit provided a $6 million property discount to Community Roots Housing to support this project, which will help ensure that elder members of the LGBTQ community continue to thrive in the vibrant, affirming neighborhood they helped create. 
Community Roots Housing partnered with local nonprofit GenPRIDE to design the project, Seattle's first affordable housing project catering specifically to LGBTQ seniors. The current plan for an eight-story mixed-use development will offer 118 units for low-income seniors. It will also include a 4,411 square foot health and community services center, which GenPRIDE will operate in partnership with other LGBTQ-focused providers. 
Facts
Breaking ground: Fall 2021
Affordability: 118 units affordable to households earning 30%-60% of the area median income
Location: On Broadway at the site of the former Eldridge Tire Company, built in 1925 and designated as a historical landmark in 2017
Mixed use: Will include 3,579 square feet of street-level commercial retail space in addition to the community center, within the landmarked Mission Revival-style façade of the Eldridge Tire Company and the Atlas Clothing Company.