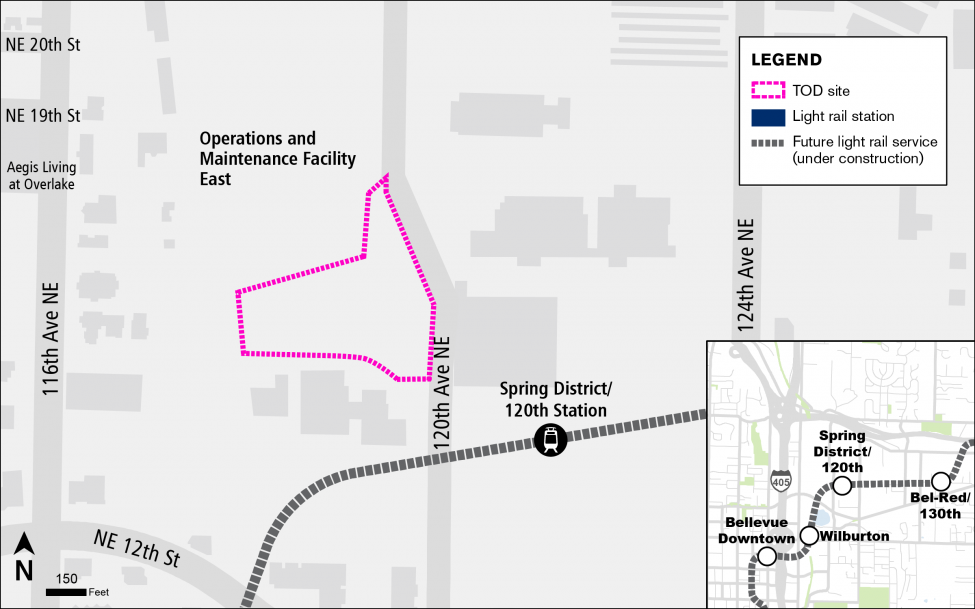 Sound Transit acquired property to stage construction of the Operations and Maintenance Facility East. When that construction was complete, nearly seven acres of land became available for TOD at the Spring District Station in Bellevue.  
Sound Transit worked closely with the City of Bellevue, King County and A Regional Coalition for Housing (ARCH) to develop a request for proposals for the site and selected BRIDGE Housing and its partners Essex Property Trust and Touchstone as the developers.  
The BRIDGE team will construct a project including:  
Approximately 500 units of housing, of which more than 280 are affordable units serving a range of incomes between 30% and 80% of area median income. 230 of those affordable housing units will be developed by BRIDGE Housing and be affordable for 99-years 
Over 400,000 square feet of office space 
Active ground floor uses including retail and resident amenities 
A park 
The project will be located across the street from the Spring District, an emerging 36-acre master planned development that is home to Facebook offices, hundreds of apartments, and the Global Innovation Exchange, an educational partnership between the University of Washington, Tsinghua University, and Microsoft. The Spring District Station will make it easy for riders to connect to this growing neighborhood starting in 2023.  
To build the affordable housing, BRIDGE Housing intends to use funding from Evergreen Impact Housing Fund and and Amazon's Housing Equity Fund. In March 2022, Amazon announced its funding of a $25.8 million low-rate loan commitment and predevelopment grant to the affordable housing component of the project, which is a part of Sound Transit and Amazon's partnership to expedite affordable housing on Sound Transit properties. Sound Transit and the City of Bellevue each provided property at no cost (a collective $12 million value) to support affordable housing on the site.  
Facts 
Opening date: TBD 
Affordability: 230 long-term affordable units serving a range of incomes between 30% and 80% of area median income; 50 short-term affordable units through the city's Multi-Family Tax Exemption program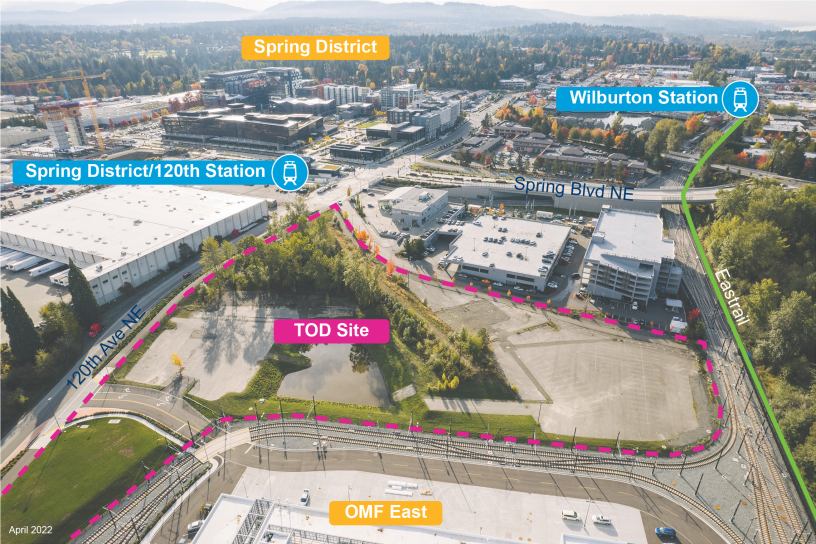 Aerial rendering of OMF East TOD area
Aerial rendering of Operations and Maintenance Facility East TOD area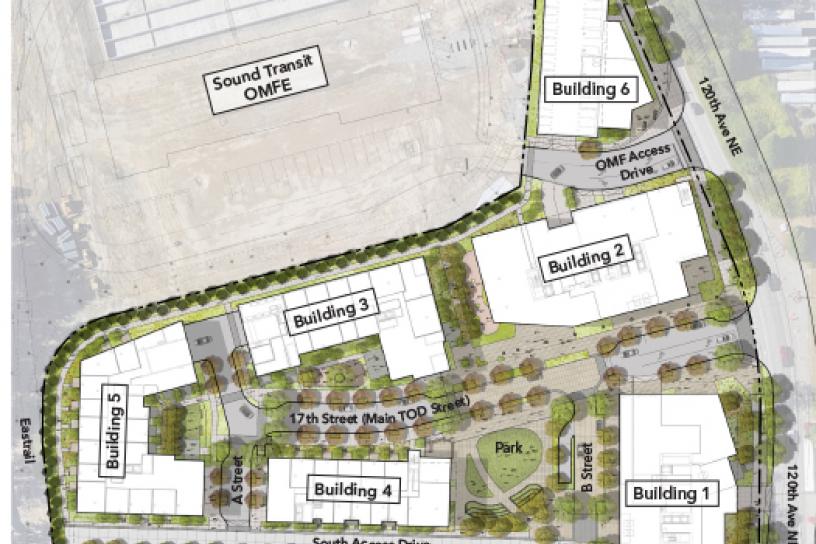 OMF East TOD site plan new concept
Image

Image