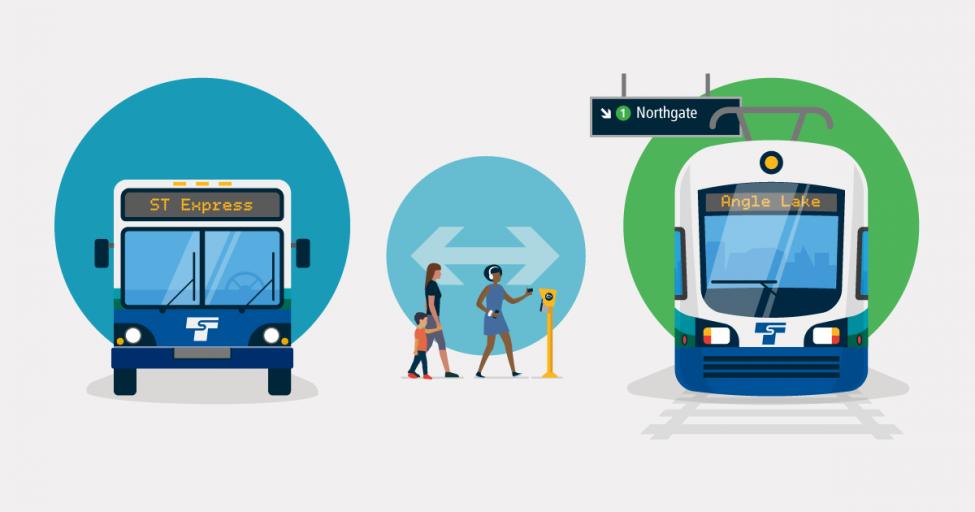 Sound Transit proposes service changes to improve reliability, relieve overcrowding, build ridership and capacity, and increase productivity.
We define "major service changes" as moving a stop more than half a mile, closing a stop without alternative service within half a mile, or changing a route's service hours by more than 25 percent. All major service changes require Sound Transit Board approval.
COVID-19 impacts to service planning
When the COVID-19 pandemic began, we saw a dramatic decrease in the number of people using Sound Transit services each day. In response to this lower ridership and operator shortages, we implemented emergency service changes in the spring of 2020. As the economy slowly ramps back up, passengers are returning to transit, and we're adding service in response.
September 2020 Service Changes
In September 2020, we'll make those changes official, with modest increases to keep up with demand. We expect to keep that service steady until March 2021, but COVID-19 financial impacts and changes in ridership may change these plans.
2021 Service Plan
Now we're planning for what our service should look like beyond March 2021. We're looking carefully at where our services are most needed, where demand might increase, and which passengers depend most on our services.
At the same time, we're looking ahead to our next Link light rail extension opening in fall 2021 and considering how to reroute some of our services to connect with our three new stations in north Seattle (U District, Roosevelt and Northgate).
Use the table of contents above to explore the proposed service changes by route or review the full 2021 Draft Service Plan (PDF). After you've learned about the 2021 Service Plan, please take our survey by Sept. 25 to weigh in. We'll use your feedback to shape the final proposal that we'll present to the Sound Transit Board before the end of the year.
Submit your feedback by Sept. 25!
These are tough decisions, and we need your input. Join us to share your thoughts at a virtual public hearing or by taking our online survey.