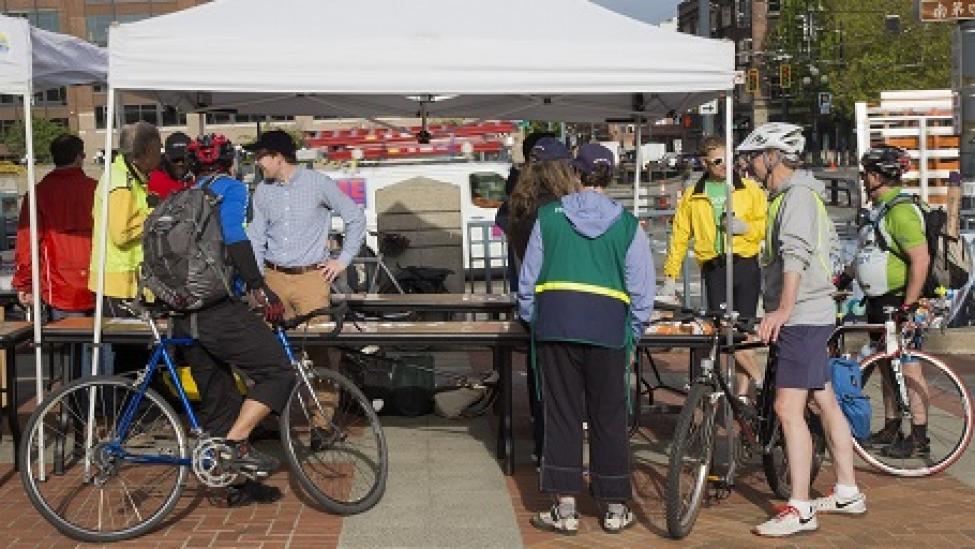 Become a "Bike Buddy" and help a friend get rolling on a new adventure
Body
We're just over halfway through Bike Everywhere Month and like a lot of you, we're looking forward to Friday's special "Bike Everywhere Day" celebrations when our favorite routes will be dotted with free bagels, water bottles and other bike-related tchotchkes.
Stop by our Celebration Station in front of Union Station at 4th Avenue South and South Jackson Street from 7:00 a.m. – 9:00 a.m. 
We'll be there with lots of good information about combining bikes and transit along with our friends from King County Metro Transit, Back Alley Bike Repair and the good people from Bicycle Security Advisors who promote the Bike Index, a great way to register your bike in case it ever gets stolen.
Maybe we'll see you at the tent with your Bike Buddy, or maybe you're the buddy helping a friend get more comfortable riding to work.
Be a Bike Buddy to get a friend rolling
In 2017, our Bike Program Transportation Planner, Rebecca Roush, created the Bike Buddy Program to encourage more Sound Transit employees to try bicycle commuting and ultimately increase the number of trips made by bike.
"Any experienced cyclist can be a Bike Buddy," Roush said. "All you need is a willingness to help plan a route and the willingness to ride with the new cyclist on their first trip from their residential neighborhood to a transit center or to work, and either ride home with them or advise them on the best route to get home. The more information sharing that occurs the better."
It's the sort of hands-on help that makes taking that first trip by bike easier for people like Magda Ostrowski, a Senior Executive Assistant at Sound Transit.
(A Bike Buddy helped Sound Transit Senior Executive Assistant Magda Ostrowski (above) master her commute to work by bike.)
"I've always wanted to give commuting by bicycle a try," Ostrowski said. "I used to live in the Maple Valley area, and distance was my good excuse. Everything changed when I moved to Seattle."
She rode to work with Roush for the first time last month and has been a regular rider in the sunny weather we've been blessed with in May.
"Rebecca lives just a few blocks away from me so it was a perfect match. She really encouraged me and scheduled the ride," Ostrowski said. "I think it's super helpful to have someone to show you the way. Rebecca is great. She brought me the map with the highlighted bike route to my house, so I could get there on my own. She also texted me to check to see if I arrived home safe and sound."
We'll see you on the road Friday, hopefully under sunny skies.
And don't forget, we still have available bike lockers and bike cages at many of our train stations and transit centers!
Find out more about how to get your own spot!