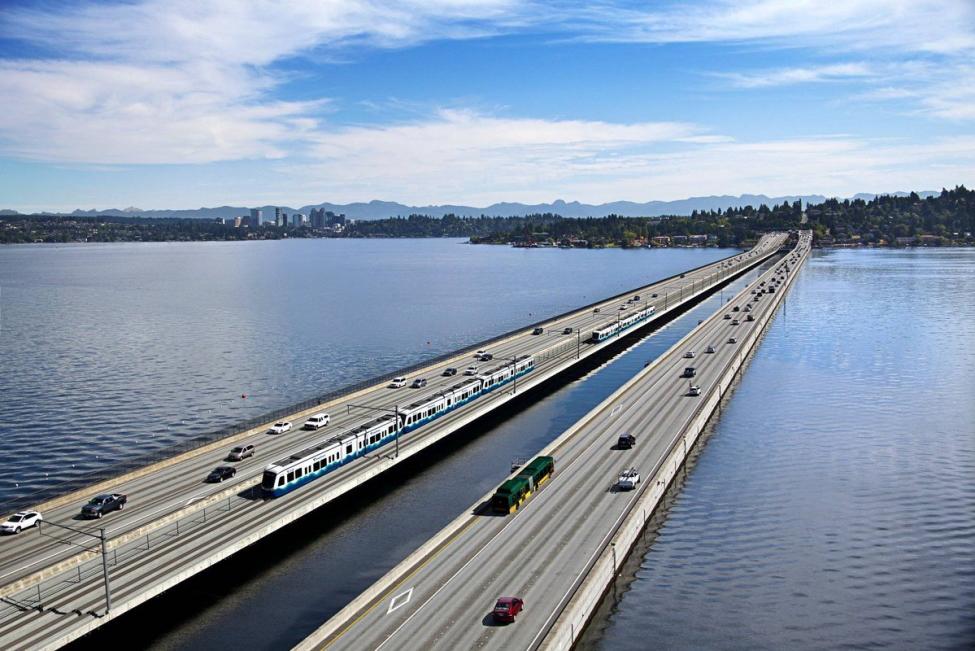 East Link work moves into Seattle, Rainier Avenue South roadwork ahead
Body
Now that the Rainier Freeway stop on I-90 has closed, construction at the site of the future Judkins Park Station is ramping up.
To construct the future station entrances at Rainier Avenue, crews demolished a portion of the westbound I-90 lanes above Rainier Avenue. Upcoming work may require intermittent lane closures on Rainier Avenue South in the area for utility relocations.
The existing pedestrian bridge will remain and will connect the future station entrances on the east and west side of Rainier Avenue.
The work is part of the East Link light rail project connecting Seattle, Mercer Island, Bellevue and the Overlake area with light rail.
Trips from the future Judkins Park Station will take 15 minutes to downtown Bellevue and 24 minutes to the new Overlake Village Station. 
Judkins Park Station Features
While contractors have been busy getting ready for East Link to cross the I-90 bridge, this is the first major East Link station work happening in Seattle. 
The Judkins Park Station will provide fast connections to the East Side and become a hub for transfering from local buses to East Link connections to Mercer Island, Bellevue and the Microsoft campus in the Bel-Red area.
It also marks Sound Transit's first rail hub in Seattle's Central Disrict and will be a game-changer for the neighborhood. 
The station includes entrances from 23rd Avenue South and from Rainier Avenue South below the station.
It and features amazing artwork by nationally-known Seattle artist Barbara Earl Thomas and New York-based Hank Willis Thomas (no relation to Barbara Earl Thomas). 
Barbara Earl Thomas' work will tell a simple story through pictures spread across the station platform's windscreens. The artwork is loosely based on the theme of passing the torch and how the artist has seen the Judkins Park neighborhood has changed over time.
The Hank Willis Thomas work explores themes of identity, history and popular culture in the Judkins Park neighborhood and plays off the station's proximity to Jimi Hendrix Park.
Below are several illustrations of the station entrances and what it will look like from the platform.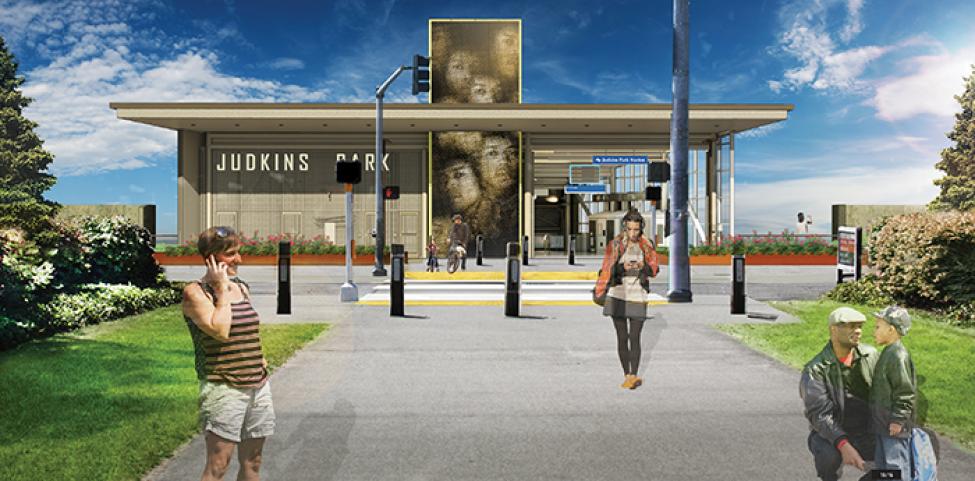 The station entrance from 23rd Avenue South if approaching from the bike/walking path through Jimi Hendrix Park.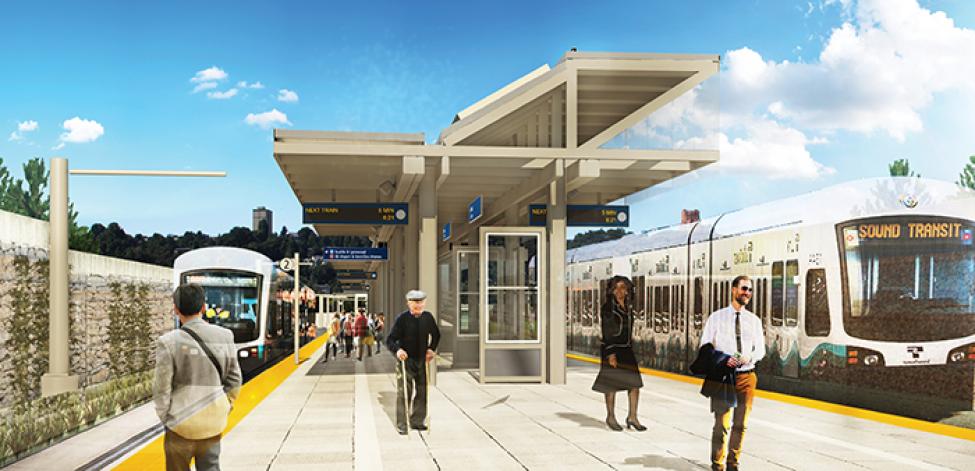 A rendition of the platform looking west.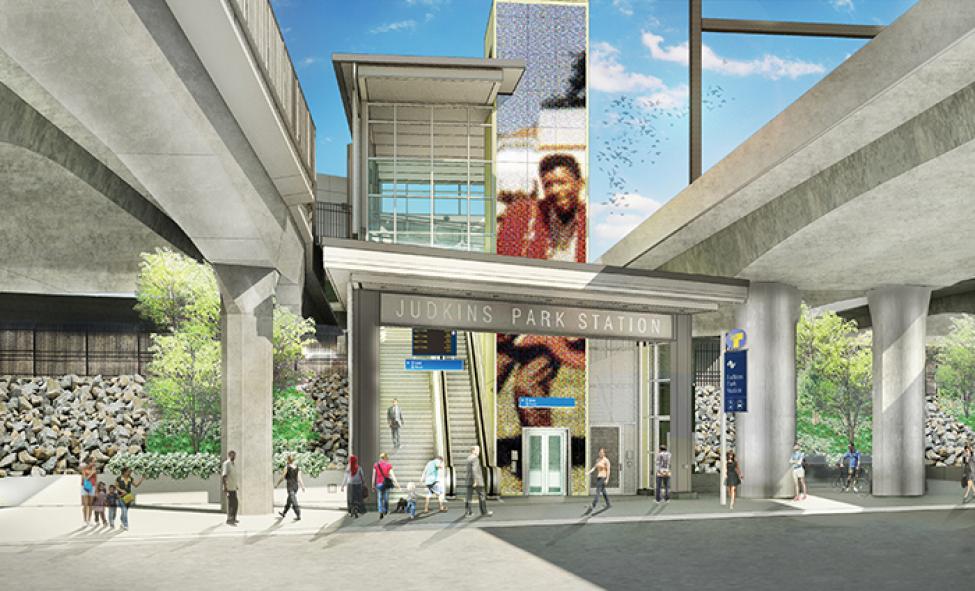 The east station entrance from below on Rainier Avenue South.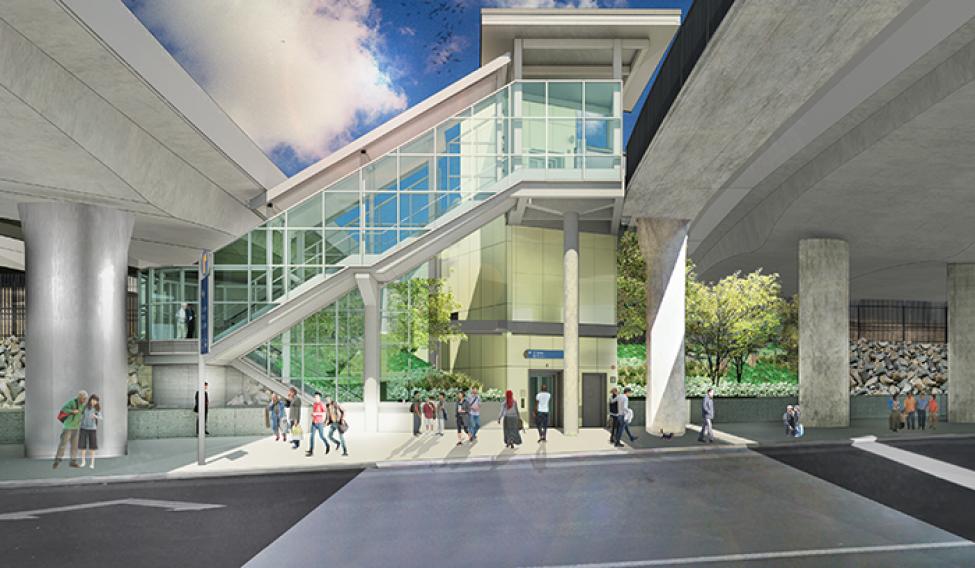 The west station entrance from below on Rainier Avenue South.
Learn more about East Link and sign up for project updates.