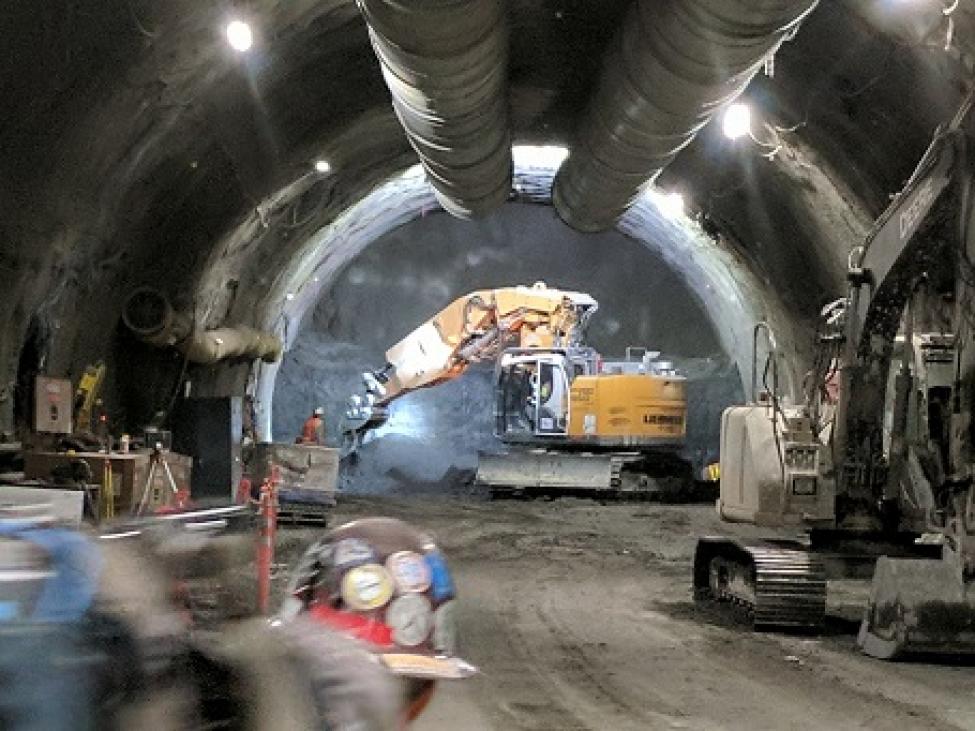 Going underground - East Link light rail moving forward under downtown Bellevue
Body
Regional media visited the East Link project this week to see the mining operations beneath downtown Bellevue where light rail trains will run in 2023. The mining is going well with about 700 feet of the 2000-foot long tunnel complete. Here's some fresh pictures from the show-and-tell. Light rail travel time from here to downtown Seattle will take twenty minutes. Check out the main East Link project page for more details.
Here's the "heading" of the tunnel about 700 feet from its entrance and about 25 feet beneath Northeast 110th Avenue in downtown Bellevue. This truck hauls away dirt as it's scraped from the sides and face of the tunnel.
Visitors check out the business end of a "roadheader" that scrapes material away from the sides and face of the tunnel to be hauled away. 
Here's the "roadheader" at work scraping away the next section of tunnel while visitors stay at a safe distance. The pipes above bring fresh air into the tunnel while moving machinery exhaust out. 
The dirt, or "spoils," are hauled away one truckload at a time because there's not enough room in the tunnel to line up more trucks. 
How we mine
Check out our time-lapse camera footage explaining how the mining works!
Bellevue SEM Timelapse from Sound Transit Video on Vimeo.
All of East Link humming along
Whle the downtown Bellevue tunnel gets much of the spotlight, the East Link project is 14 miles long with ten stations from Seattle to the Overlake Transit Center adjacent to Microsoft's campus. And today we have contractors at work along the entire alignment - a continual strech of surface and underground construction the region hasn't seen since the initial light rail segment was under construction from downtown Seattle to SeaTac International Airport from 2004 - 2009. 
It's an incredible amount of contiguous, complex work happening at the same time. Here's the thumbnail version of what's happening along the route. 
Seattle/I-90/Mercer Island: Ongoing work inside the I-90 bridge to prepare for light rail tracks, site preparation work for Mercer Island Station construction

South Bellevue to downtown Bellevue: Relocating utilities, drilling shafts, placing rebar cages for parking garage at South Bellevue Statoin. The shafts will serve as the foundation for columns supporting the elevated tracks into and out of the station. Stabilizing the ground along 112th Avenue Southeast and tunneling under Northeast 110th Avenue.  

Downtown Bellevue/Spring district/Overlake: Reconfiguring Bellevue City Hall plaza and access, preparing to build north tunnel portal, drilling shafts and constructing columns for elevated light rail tracks to pass over I-405, digging trenches for light rail tracks, creating construction access roads along SR 520, building stormwater runoff storage vaults, relocating utilities, excavating for the future 300-stall Redmond Technology Center Station (formerly Overlake Transit Center) garage.
Stay up to speed, how we got here
Sign up for East Link construction alerts to keep up to speed on all things related to East Link. 
Check out this story for more information on the downtown tunnel segment and the special methods at work to dig it. 
​Right now contractors are at work along every portion of this map.