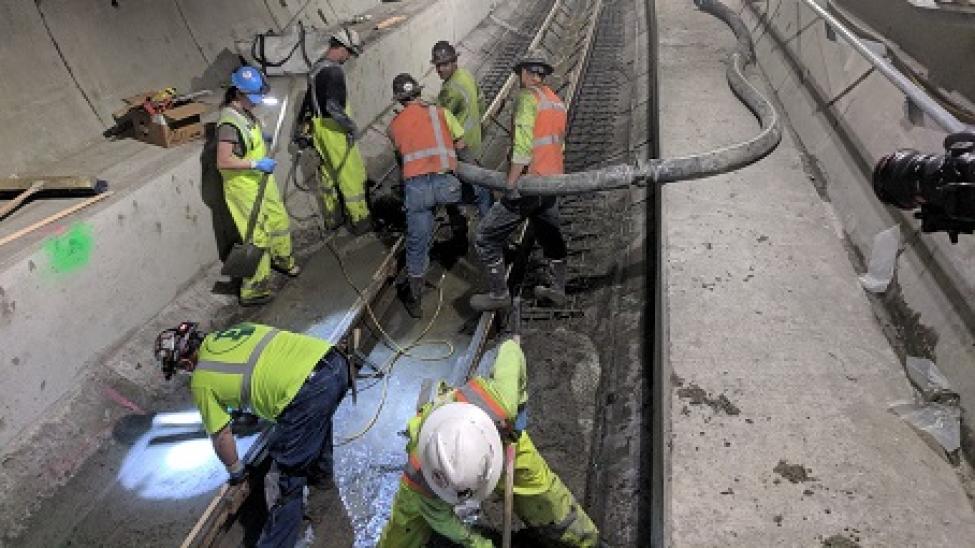 Handmade transit: over three million labor hours so far into building Northgate Link
Body
Our latest in an onging series of what goes into building massive infrastructure projects takes us underneath the University of Washington campus to see crews pouring concrete for the new light rail track bed.
This is hard, dirty work under cramped conditions that gets done by hand. It's just a fraction of the more than three million hours of labor that have gone into the Northgate Link project so far.
Northgate Link Overview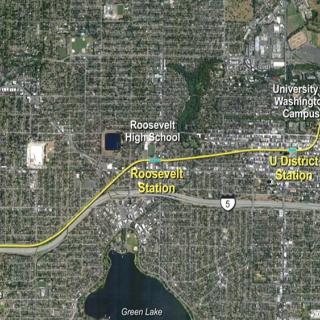 To recap, the Northgate extension is 4.3-miles long and includes new stations in the U District, Roosevelt and Northgate neighborhoods to connect with existing service at University of Washington Station at Husky Stadium. Trains will travel in tunnels from University of Washington Station to the new underground U District and Roosevelt stations before emerging onto elevated tracks serving Northgate Station.  
Trips from Northgate to Westlake in downtown Seattle will take 14 minutes when the line opens in September of 2021, no matter how bad traffic is on I-5. 
Pouring the concrete
The concrete crews work in teams of ten workers pouring the concrete into forms that are reinforced with steel rebar. They pour, spread and smooth the concrete in roughly nine-foot sections before moving to the next portion. 
Here's a quick video showing the basic steps. 
As you can see, they have to work fast to get the new material placed and smoothed before it starts curing. The crews can pour about 250 feet of new concrete every two days.
It takes one day to make the forms for each section and another day to fill in the forms with concrete.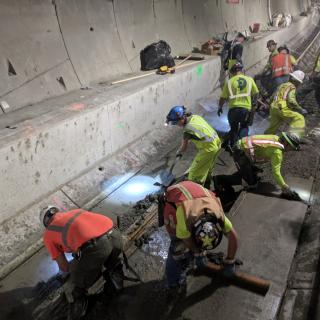 Everybody has their own job on the concrete crew. Different team members manage the pouring, spreading and smoothing.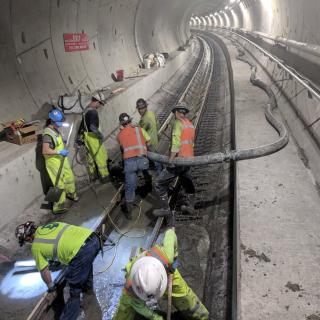 The concrete is pumped through the large hose on the right side of the photo above. The hose is made up of 9-foot sections. Each section weighs about 50 pounds empty and about 200 pounds when concrete is pumping through.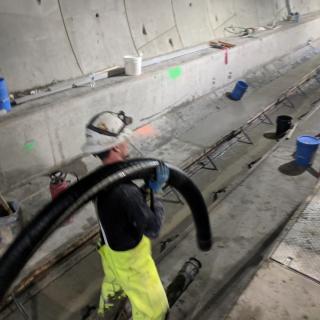 As the crew moves up the line, the hose sections are removed and flushed with water to reuse. Basically, the hose gets shorter as the crew works their way up the tunnel.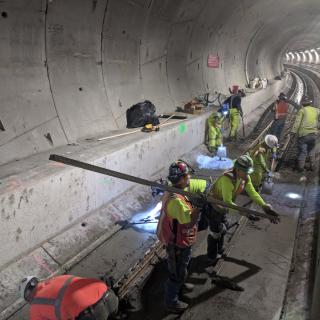 It's grueling work under tight conditions.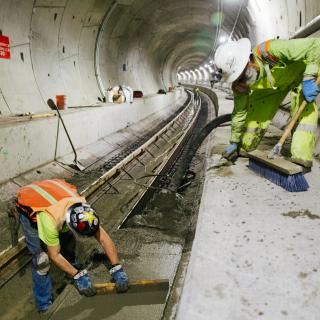 The crews are constantly clearing the tunnel walkway as the team moves up the line.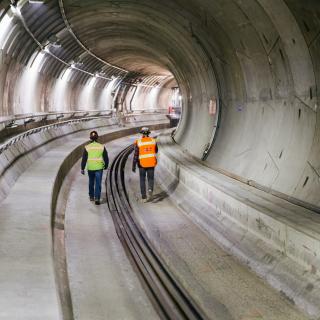 Inspectors walk a section of tunnel where the new concrete will be poured for the rail bed.
Check out our previous stories on welding rails to go into the tunnels and how trains will run on a specialized track bed beneath UW to keep from interfering with sensitive work in the labs above.