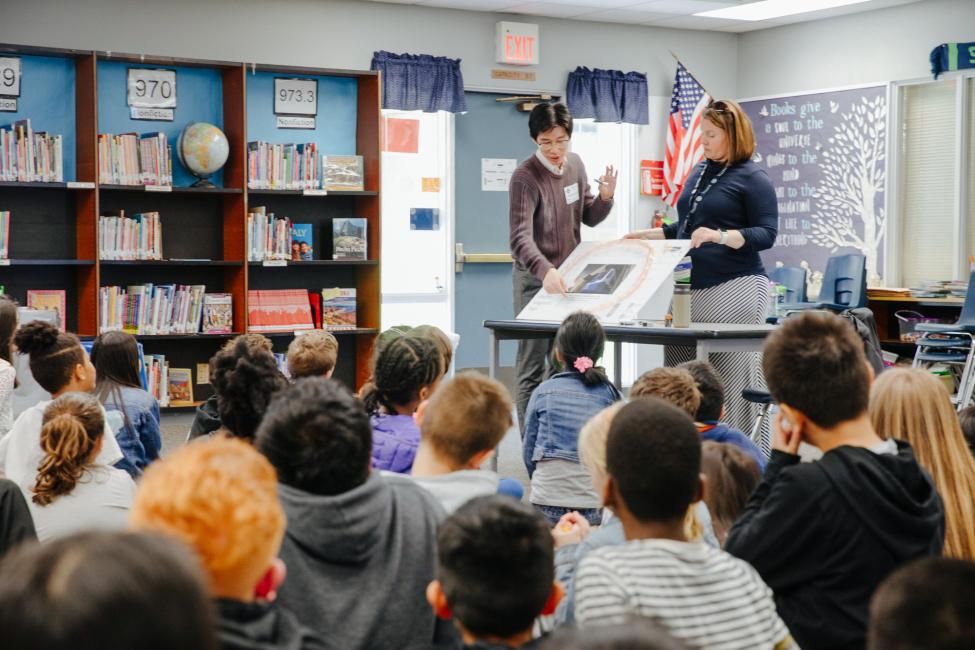 It's not magic: Federal Way third graders learn how Link light rail works
Body
Sound Transit staff joined about 88 third graders recently at Nautilus K-8 School in Federal Way to explain how electromagnets power the Link light rail system headed their way. 
Richard Nguyen, an electrical engineer and Systems Corridor Design Manager for Sound Transit, walked the students through a simple experiment showing how magnets can move a battery through a section of copper coil. 
It traveled, seemingly by magic, through the coil, to the delight of the students.
Nguyen explained that it wasn't "wizardry," but electromagnetic fields that caused the little vessel to move.
The third graders had already been learning the basics of magnets – opposites attract and likes repel – but didn't know they could be made strong enough to lift a car, or power a train.
Nguyen showed how light rail gets power from the wires above the tracks (known as overhead catenary lines), and the power substations below it. The substations contain transformers.
"Not the robots that turn into cars, but a machine that converts one type of electricity into another," he noted.
Light rail will expand to Federal Way in 2024. It seems far away (especially to a third grader), but the community and its students are already thinking about the future; a few said after the presentation that they want to be scientists when they grow up.
Nguyen said his goal was not only to provide information the students would find useful to supplement what they've learned about magnets, but to show them that science and engineering can be a lot of fun.
The students exceeded my expectations with their knowledge about magnetism and Sound Transit's services," Nguyen said. "It was a great experience to work with a group of very engaged and enthusiastic young scholars.
Nautilus is a project-based learning school, incorporating STEAM (science, technology, engineering, art and math) into cooperative, group activities.
With the help of their teachers, the students will soon work together to plan, build and test small fuel efficient racecars.
Build your future - join our team
Sound Transit is growing as we expand light rail throughout the region. We're looking for people who want to make a difference - whether it's on the engineering and planning areas, construction management or managing how our systems operate every day. 
Check out our career opportunities to find your next step.