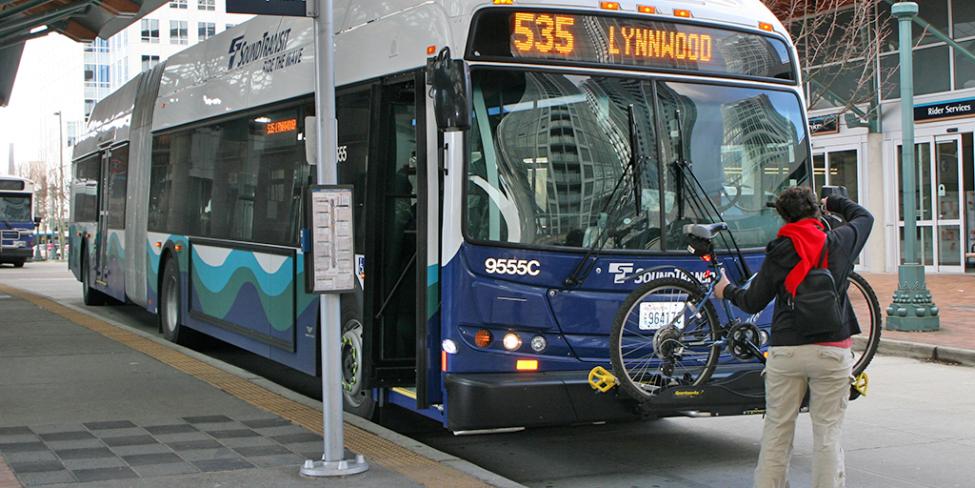 Q. Will Sound Transit ever allow bikes onboard its buses?
Body
Q. Will Sound Transit ever allow bikes onboard its buses?
Bicyclists are welcome on all ST Express buses. However for a number of reasons, mostly having to do with safety and compliance with the Americans with Disabilities Act, bikes are only allowed outside on the bike rack in front of the bus. You can bring your folding bicycle inside as long as you keep it with you or store it under the seat.
Q. What about having more than three bike slots in the rack outside the front of the bus?
Our bus racks carry two or three bicycles, which is industry standard. Bike racks are limited so the driver can see out front and also make safe turns. The MCI coaches that primarily travel between Tacoma and Seattle only carry two bicycles because of the design of the bus.
Q. Can I bring my bike on Link light rail and Sounder commuter trains?
Yes, our trains can carry four bicycles per car.
If you don't want to take your bike on the bus or train, you can still ride it to the station. All Sound Transit facilities have bike lockers, racks and/or cages. Sound Transit encourages its riders to combine bikes with public transit.