March is Women's History Month, and we're celebrating the women changing the face of our region's construction workforce and transportation system.
In 2019, Sound Transit projects had around 3.8 million labor hours, with more than 500 woman working more than 276,000 of those hours.
The apprentice level is the fastest growing segment. About 45 percent of hours worked by women are worked by apprentices, and Sound Transit is investing in the job training programs that will continue to train the diverse workforce needed in the future.
March 1-7 is Women in Construction Week. This year's theme is "Paving New Roads to Construction."
If you're interested in a career in the trades, scroll to the bottom of this article for resources!
A career with mobility
Andrea Ornelas was working as a pharmacy assistant and watching her husband's career in the construction industry progress when she decided to become part of it.
"He looked like he was doing something worth doing," she said.
The mother of five decided to enroll in the ANEW pre-apprenticeship program before joining Laborers' Local 242, Walsh Construction and Sound Transit's Hilltop Tacoma Link Extension.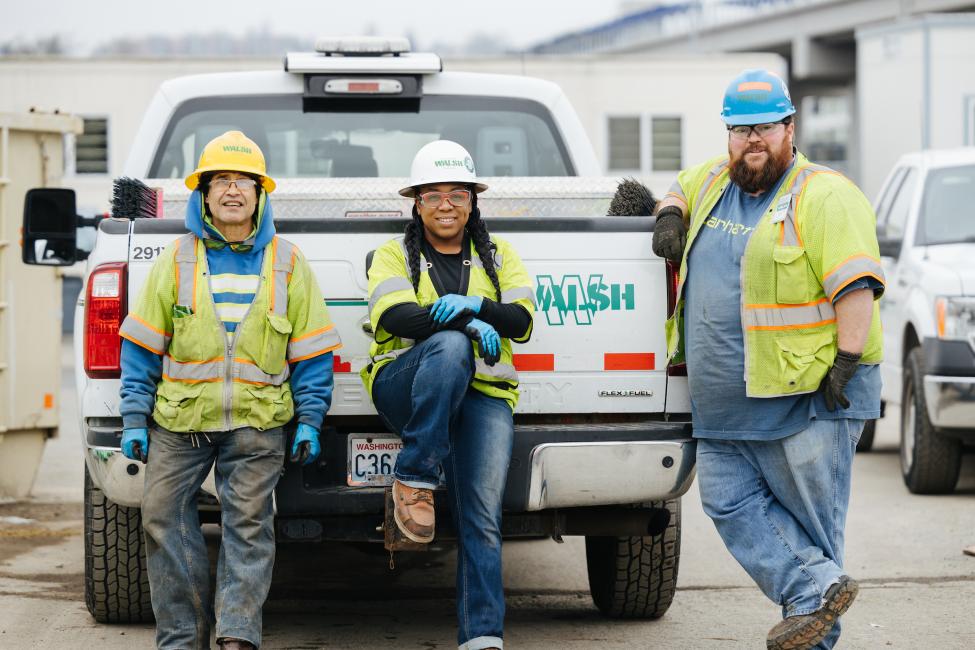 Women have a lot of value. It's not just about being strong. It's about your attitude and mindset.
There, she went from working as an apprentice to journeying out and, a few weeks ago, being promoted to foreman.
"It's a little different because now I'm above the guys," she said. "But they've had my back, and we try to make decisions together."
She said that joining the construction industry has taught her how to change the conversation, even if she can't change everyone's opinions.
"Women have a lot of value," she said. "It's not just about being strong. It's about your attitude and mindset."
Putting work into the community
For Latraia (Trai) Daniel, an electrician with IBEW Local 46 and Kiewit (one of the contractors for Sound Transit's East Link Extension), getting into construction was a "life-changing opportunity."
She also did the ANEW program, seeing construction not only as a chance for financial stability, but also to be part of something that will have a positive impact on future generations.
She now wants to wants to introduce members of her church and others in African American community to careers in the trades.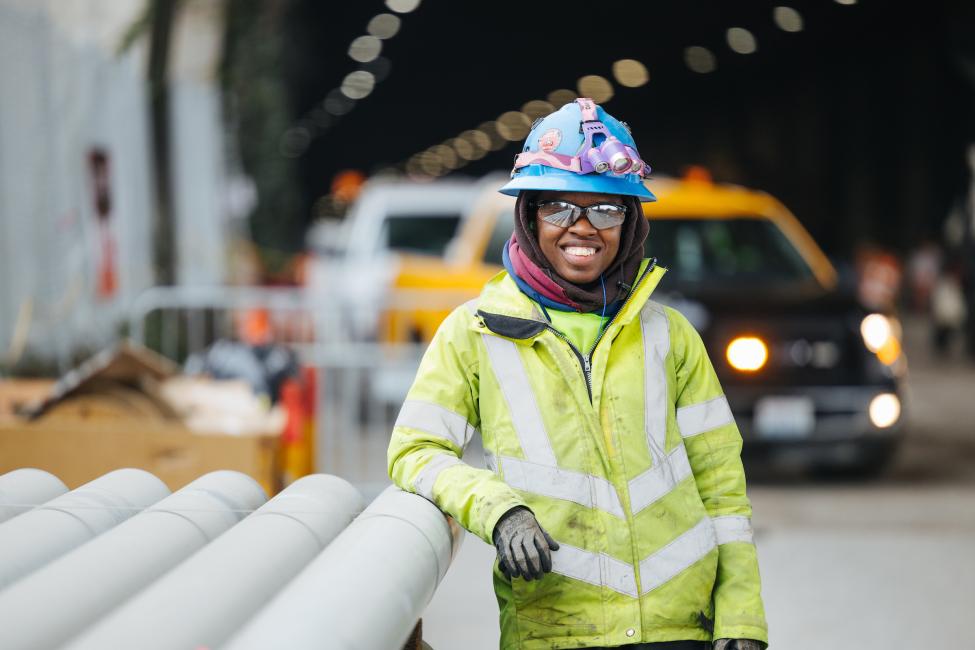 In her other job as a basketball referee, she's used to working in a male-dominated industry. She said that by having a good work ethic, she quickly earned the respect of her fellow crew members on the job site.
Kiewit's contract covers 6.9 miles – from International District/Chinatown Station (IDS) in the Downtown Seattle Transit Tunnel to the East Channel Bridge. It includes the new Judkins Park and Mercer Island stations, as well as the I-90 floating bridge.
Trai has worked on almost every piece, laying conduit for the wires that will eventually power trains to reach the Eastside.
A better future
Alisha (Ali) Crespo was at Mission Creek Corrections Center for Women when she decided to take a chance with the TRAC pre-apprenticeship program.
She decided to become a cement mason because she's a "hard worker and also very artistic." She joined Local 528 and was hired by Kiewit.
She wants to get into the creative aspects of masonry later in her career, but right now, she's happy to be working on the East Link Extension and "doing something that's part of the bigger picture."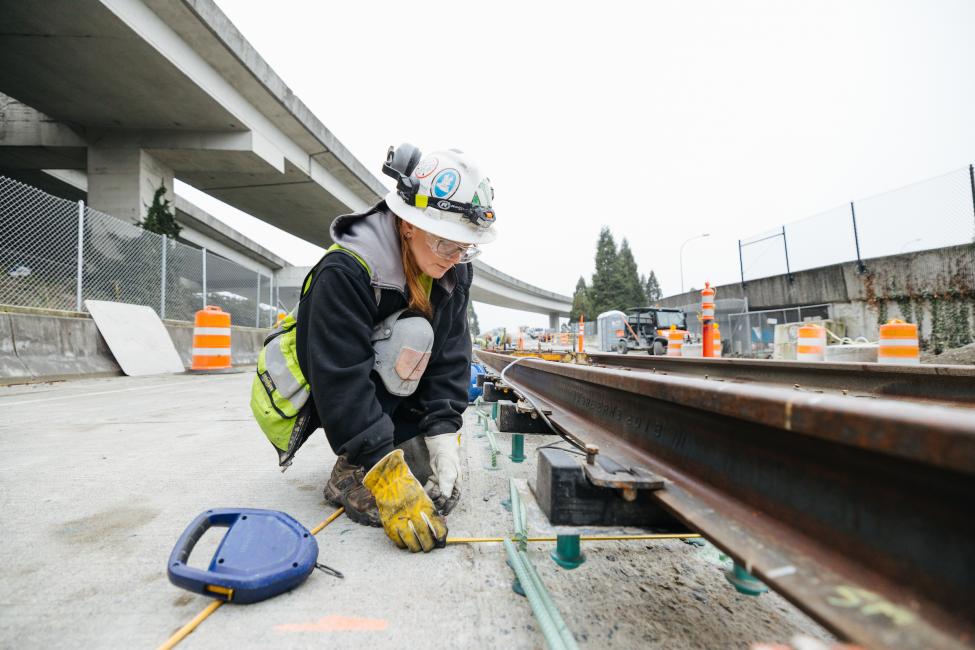 She said she's had great mentors in the industry, and is developing the skills that will help her succeed in this fast-growing field, defying her previous expectations for her life.
"I grew up thinking that I had to attend a college or know someone in a business to have a career," she said. 
Pathways to the trades
Sound Transit works with organizations like ANEW, TRAC and more throughout the region to make sure our job sites have the skilled labor needed to expand your mass transit system over the next 25 years.
The agency is invested in several construction training programs around the Puget Sound, including those that serve women, people of color and other diverse groups. 
Sound Transit's voter-approved multi-billion dollar investment in expanding the region's transit system will bring job opportunities throughout Pierce, King and Snohomish counties.
For more information about getting your start as a skilled construction tradesperson, check out these useful links. 
•    Apprenticeship programs recognized by the Washington State Apprenticeship and Training Council
•    ANEW - Apprenticeship and nontraditional employment
•    Seattle Vocational Institute – PACT
•    Ironworkers Local 86 pre-apprenticeship program