110th Avenue NE in downtown Bellevue set to reopen
Body
Next week, Sound Transit's contactor will reopen the portion of 110th Avenue NE between NE 4th and NE 6th Street following the closure that began in mid-June.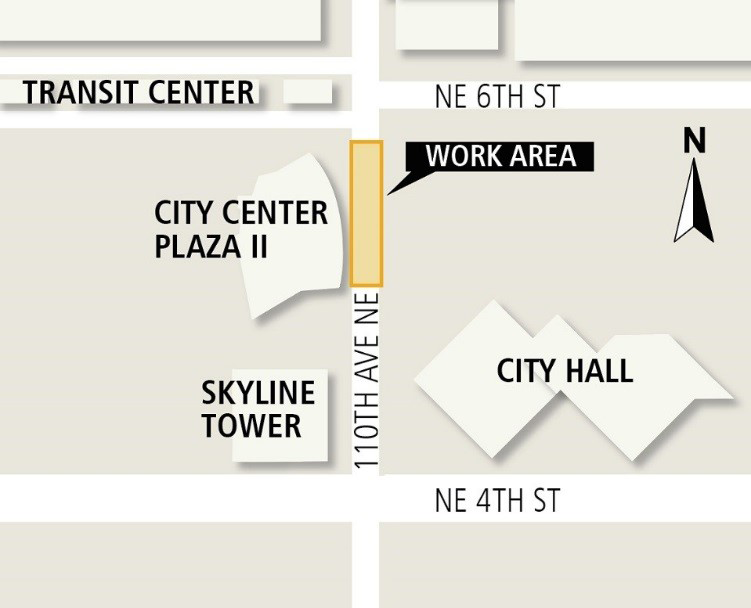 What to expect
The roadway will be repaved on Saturday, 8/27. This is anticipated to take one day to complete and will require closures of north and southbound lanes.
On Sunday, 8/28, one southbound lane will reopen and the remainder of the roadway will remain closed while Sound Transit and Puget Sound Energy crews raise manholes to street level.
On Tuesday, 8/30 the roadway will reopen to northbound traffic mid-morning.
During the week of 9/5, a two-day closure of a southbound lane (9 a.m. - 3 p.m. each day) will be necessary in order to restore the sidewalk on the west side of the street.
Tunnel monitoring equipment installation will continue to occur along 110th Avenue NE, requiring periodic lane closures.
What was accomplished during the closure?
Sound Transit was able to prepare the soil underneath the roadway for tunneling which is anticipated to begin in late 2016. The previous soil was loosely compacted and it was replaced with a denser material, more appropriate to tunnel through. We would like to thank our downtown neighbors for their patience while this work occurred.