Lane closures on 112th Avenue Southeast and 116th Avenue Northeast in downtown Bellevue
Body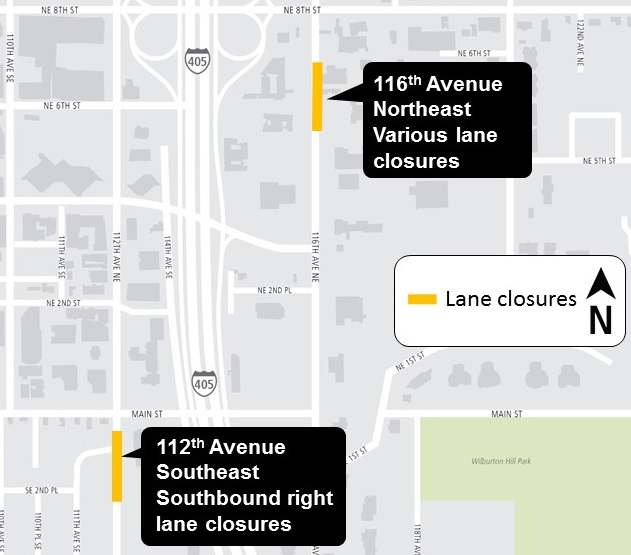 Drivers should be aware of lane closures in downtown Bellevue. Beginning on Monday, Oct. 22th, Sound Transit's contractor will be closing lanes in preparation for the East Link light rail.
Day lane closure on 112th Avenue Southeast (Oct. 22th – Oct. 26th) From 7 a.m. to 3 p.m., one right southbound lane on 112th Avenue Southeast adjacent to the Hilton parking lot driveway will be closed between Main Street and Southeast 6th Street in preparation for construction of a pedestrain crossing and bus pullout.
Night lane closures on 116th Avenue Northeast  (Oct. 22th – Oct. 25th) Each night, from 9 p.m. to 7 a.m., various lanes on 116th Avenue Northeast between Northeast 8th Street and Northeast 4th Street will be closed adjacent to Lincoln Center & Cadillac of Bellevue to adjust falsework.
What to expect
One lane in each direction on 116th Avenue Northeast will be maintained at the work site while work is occuring.
The sidewalks will be closed along the west side of 112th Avenue Southeast adjacent to the work area. All other sidewalks will be maintained at work sites while work is ocurring.
Access to 116 Coast Hotel and Cadillac of Bellevue will remain open.
Types of equipment are flatbed trucks, aeral lifts, small generators, light plants, cranes, and saws.
Please follow the direction of flaggers and signed detours to safely access your destination.