Nighttime closures of 136th Pl NE: January 29- February 2
Body
Crews will close 136th Place Northeast nightly starting Monday, Jan. 29, through the morning of Friday, Feb. 2. During these nighttime closures, contractor crews will conduct excavation activities on the east side of the road.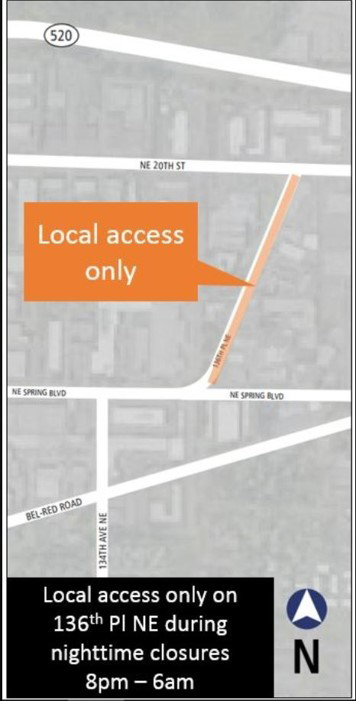 What to expect:
136th Place Northeast will be open to traffic during daytime hours.
'Local access only' maintained to businesses on 136th Place Northeast during nighttime hours, approximately 8 p.m. – 6 a.m.
Nighttime access will still be available to businesses with evening hours or those that receive deliveries, however, traffic will not be allowed when construction activities cross the roadway.
All traffic control plans have been reviewed and approved by the City of Bellevue.
Crews will maintain a safe and secure work zone.
Construction schedule is subject to change.