Preparation of structures for demolition at the south portal of the downtown Bellevue tunnel
Body
Construction has begun on East Link's downtown Bellevue tunnel. The first phase of the work, located at the south portal site (pictured below), including the permanent closure of the portion of SE 1st Place at 112th Avenue SE, along with installation of temporary fencing and erosion control is almost complete. Sound Transit's contractor will begin preparing structures for demolition as early as April 4. In order to maintain a safe level of air quality within the structures for the contractor, a generator powering an air exchange unit will run through the night. While work within the structures will not take place at night, constant air flow is required for work to resume safely each morning.
What to expect:
Work between 7 a.m. and 6 p.m., M-F and Saturdays  with the generator running 24 hrs/day including Sundays
Generator is insulated but will be shrouded to further reduce operational noise
A safe and secure work site at all times
Sound Transit's contractor will spend up to five weeks preparing all of the structures for demolition.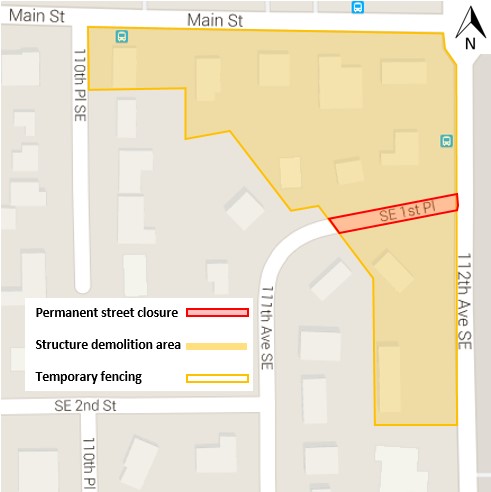 For more information
For the most up-to-date construction information, sign up for alerts at www.soundtransit.org/subscribe-to-alerts
Contact Luke Lamon, Sound Transit Community Outreach at 206-903-7469 or luke.lamon@soundtransit.org
For issues that need immediate attention after normal business hours, call Sound Transit's 24-hour Construction Hotline at (888) 298-2395.