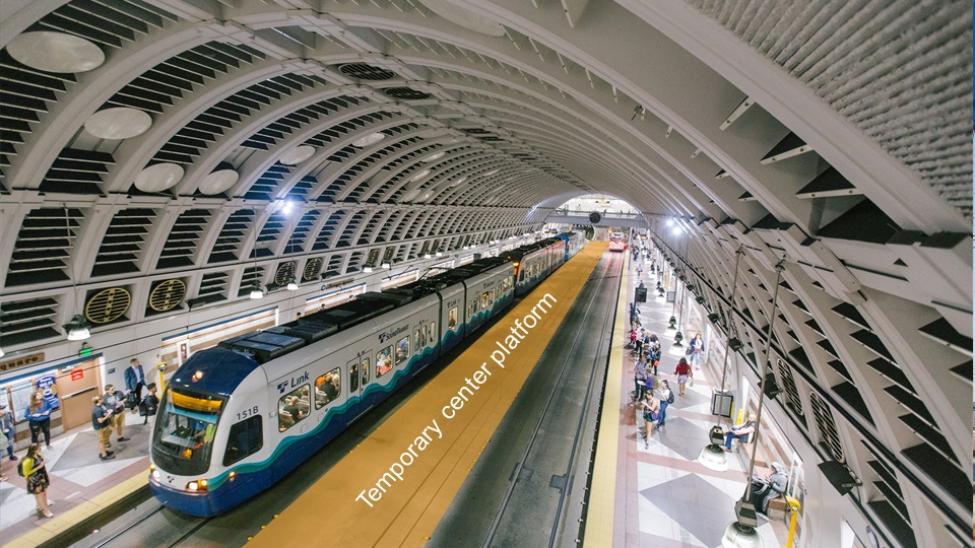 Preparing Pioneer Square Station for Connect 2020
Preparation to connect light rail to the Eastside requires weekend shuttle buses between SODO and Capitol Hill on Oct. 12-13, Oct. 26-27, and Nov. 9-10
During three weekends this fall, Link light rail will not run between SODO and Capitol Hill while construction crews build a temporary center platform at Pioneer Square Station.  
The construction will affect service on the weekends of Oct. 12-13, Oct. 26-27, and Nov. 9-10. During those weekends, trains will run between Angle Lake and SODO and between Capitol Hill and University of Washington, with free buses connecting the six stations in between. 
 


The temporary center platform at Pioneer Square Station is in preparation for Connect 2020: the 10-week period of major light rail service impacts beginning in January 2020. The center platform enables trains to maintain 12-minute service in both directions during the intensive Connect 2020 construction. 
Learn more about the fall closures here. 
Stay engaged: Check out the Connect 2020 project page to learn more and remember to subscribe to rider alerts or follow us on Twitter for the most up-to-date service information.