Puget Sound Energy to perform overnight weekend work on Bellevue Way and SE 30th Street
Body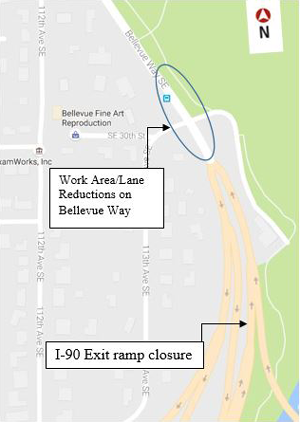 Map of PSE work area and lane restrictions on Bellevue Way.
In preparation for construction of Sound Transit's upcoming East Link Extension light rail project, during the weekend of August 13 and 14, Puget Sound Energy, along with their service provider Potelco, will be performing electrical infrastructure work on a portion of Bellevue Way near Southeast 30th Street.
What to expect
Traffic will be reduced to one lane in each direction on Bellevue Way near SE 30th Street
Both exit ramps to northbound Bellevue Way (HOV and general purpose) from I-90 eastbound will be closed overnight from 11 p.m. Saturday, August 13 to 6 a.m. Sunday, August 14. Detour signs will be posted in advance of the ramp closure on I-90.
There will be signs and traffic flaggers helping guide vehicles and pedestrians safely through the work zone and there will be no impacts to the pedestrian pathway.
Questions?
Visit Puget Sound Energy's project webpage. If you have additional questions about this weekend's work, contact Kim Lane, Puget Sound Energy Senior Project Manager at 1-888-404-8733 or MajorProjects@pse.com.