South Bellevue Construction Update
Body
South Bellevue Park-and-Ride closed for East Link construction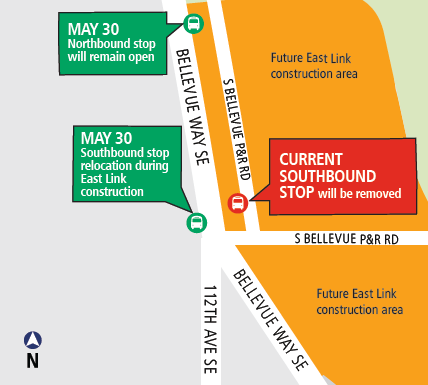 The South Bellevue Park-and-Ride has closed for approximately five years, for construction of East Link Light Rail and a new 1,500 stall parking garage.
In advance of the South Bellevue Park-and-Ride closure, Sound Transit opened six new leased park-and-ride lots, expanded two leased lots and identified existing lots with parking availability. Find more information about park-and-ride options during East Link construction on the East Link Park-and-Ride page.
When the South Bellevue Park-and-Ride closes, transit will continue to serve stops along Bellevue Way SE adjacent to the park-and-ride site. Starting May 30, parking and pickup and drop-off will no longer be available at the South Bellevue Park-and-Ride. Pickup and drop-off spaces are available at many area park-and-rides. There is also a signed three minute passenger drop-off zone on 108th Ave NE, just north of NE 6th near the Bellevue Transit Center.
For information on alternate park-and-ride and pickup/drop-off options, transit service, alternate travel options and to get a custom trip plan from King County Metro's Just One Trip team, visit the East Link Park-and-Ride Closure page.
South Bellevue Station Construction
Sound Transit's contractor will begin preparing the site of the future South Bellevue Station and 1,500 stall parking garage for construction activities.
Early work activities include, installation of fencing around the future South Bellevue Station site and fencing of construction areas south of the site.
Beginning Tuesday, May 30th crews will began mobilizing on the site. Upcoming construction activities include:
Mobilization of construction equipment
Installation of jobsite trailers
Set-up of environmental controls
Construction of access roads
Construction of tire wash stations
Archaeological exploratory work
Closure of SE 4th at 112th Ave SE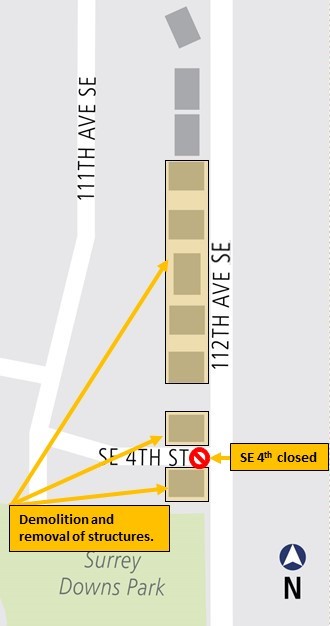 In preparation for removal of structures along 112th Ave NE Sound Transit's contractor will begin installing fencing around the vacant buildings along 112th Ave SE. Construction at the intersection of SE 4th and 112th Ave SE is scheduled to begin on Monday, June 5th, at which time, access to SE 4th from 112th Ave SE will be permanently closed, with access maintained for emergency vehicles and construction crews. Following installation of fencing, crews will begin soft demolition by removing carpet and other materials from inside the vacant buildings, in preparation for demolition of the structures along 112th Ave SE.
Construction Kickoff Open House
Construction of the East Link light rail project is getting underway in south Bellevue. Join us at an open house on Wednesday, May 31, 2017 to learn more about light rail construction activities in south Bellevue. The open house is an opportunity to view display boards and meet members of the project team that will build this portion of the East Link project.
Please join us! Meet our construction management and contractor to discuss:
East Link and South Bellevue Station.
Early construction work, including utility relocations and demolition.
Maintenance of traffic, specifically on Bellevue Way SE and 112th Ave SE.
Construction schedule and phasing of the work.
How to stay involved and informed during construction.
When: 5-7 p.m., Wednesday, May 31, 2017
Where: Hilton Bellevue - Skyview Room
300 112th Ave SE
Bellevue, WA