Visit our online open house by Feb. 14
Body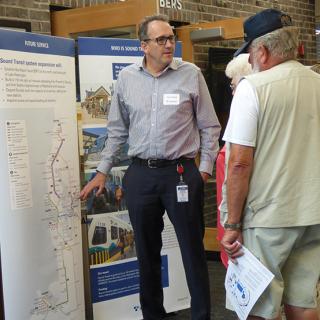 We want to hear from you about accessing future BRT stations. Visit our online open house by Feb. 14 to provide feedback, see comments from other participants and get updated project information: i405brt.participate.online. 
Through the online open house, you'll have the opportunity to:
Learn about I-405 BRT, including the new BRT name and station design. 
Provide feedback on non-motorized access to future BRT stations. 
Find out about public involvement opportunities and how to stay informed.
In summer 2018, Sound Transit shared general I-405 BRT station information with communities across the corridor. Based on technical analysis and stakeholder input, Sound Transit has further defined the BRT stations at each of the 11 locations.
The I-405 BRT Project includes funding to improve non-motorized access (like cycling, walking, etc.) near our BRT facilities. We've been meeting with community organizations to provide project updates and to collect feedback on possible barriers to BRT station access, especially with regard to walking, biking, and other non-motorized modes of travel. Contact us to set up a briefing for your organization: brt@soundtransit.org.