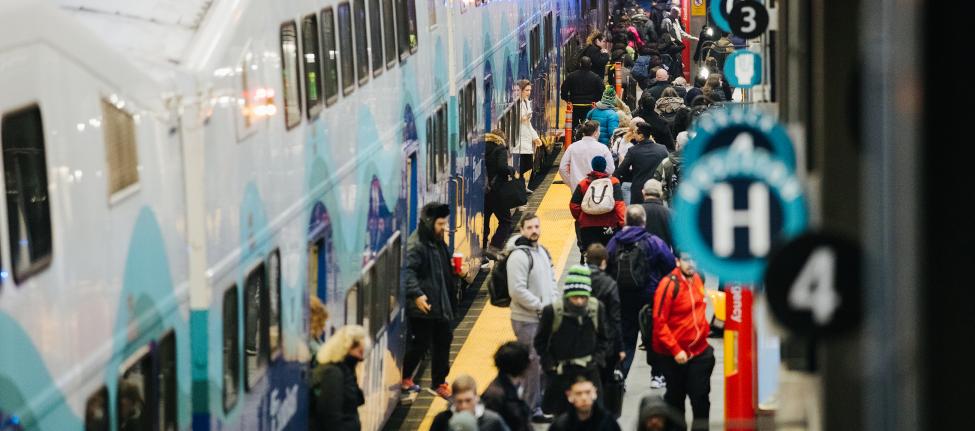 What we heard during fall outreach
In September 2019, Sound Transit hosted an online open house and 11 drop-in sessions to share information on possible Sounder South improvements and gather community feedback on priorities. We received over 2,500 survey responses – thanks for your comments and questions. 
Background
To help meet growing demand, voters approved the Sounder South Capacity Expansion program in 2016. As part of this program, Sound Transit will expand capacity so more people can ride Sounder between Lakewood and Seattle. Improvements may include:
Longer trains and platforms (to carry up to 40% more people).
Station improvements to accommodate longer trains and more riders.
Additional daily trips (contingent on negotiations with Burlington Northern Santa Fe Railway).
Because of limited funding, Sound Transit has tough choices to make in prioritizing options. It is possible that not every potential improvement for Sounder will be implemented, and the improvements that are selected will be rolled out over time. In particular, adding trips is not something under Sound Transit's sole control and would require negotiations with BNSF Railway, which owns most of the tracks used by Sounder.
What we heard
Visitors to the online open house and drop-in sessions were asked for feedback about their priorities for expanding Sounder South capacity and what changes could make riding Sounder a better option for them.
Common themes from the feedback include:
Strong desire for consistent, on-time service.
Interest in adding more trips.
Support for longer trains to serve more riders.
Requests for improved circulation and amenities at stations.
Read more in the full outreach summary. 
Next steps
Sound Transit is drafting a Strategic Development and Implementation Plan for expanding capacity on Sounder South, which will include priorities for specific improvements and a timeline for implementation. More outreach is planned in January 2020 to share the draft plan. Once a final plan has been adopted by the Sound Transit Board, work will begin on the program elements, such as longer trains, platform extensions and negotiations with BNSF.
Frequently Asked Questions
We heard questions from many of you on key topics including:
Reliability
Amenities on trains
Service frequency
Parking
For responses to these and other topics, please view our Frequently Asked Questions.