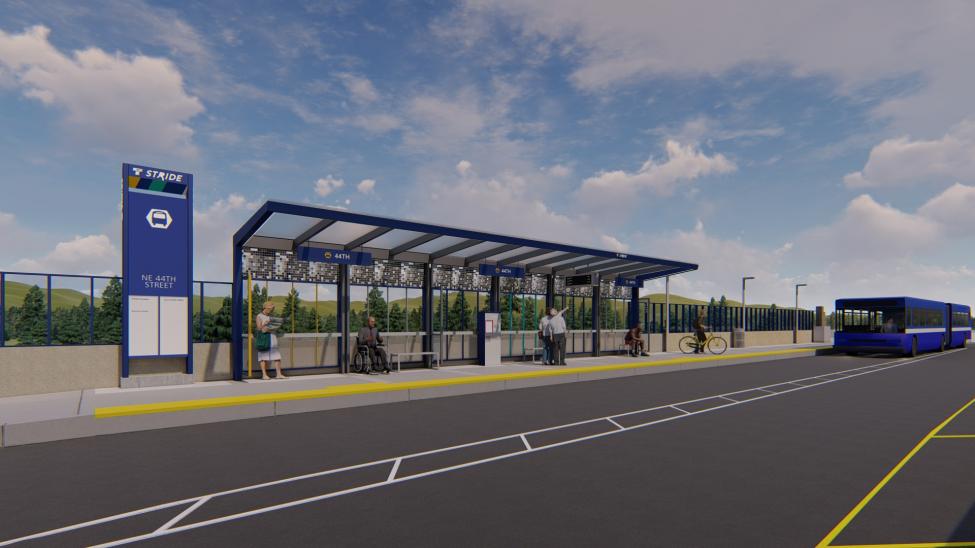 What's the latest?
The projects are engaging with cities and community members this year as we continue to move the I-405 Stride and Bus Base North forward. Below you will find an update on our recent and upcoming activities.
Throughout 2020, we continued work on the new bus base in Bothell north of the Canyon Park Station and Park-and-Ride. Bus Base North will include a new bus maintenance and operations building to support a clean, safe, and comfortable ride for Stride passengers.
In summer 2020, we completed State Environmental Policy Act (SEPA) environmental checklists for the Bus Base North project in Bothell and the I-405 Bus Rapid Transit (BRT) project. We issued a Determination of Nonsignificance (DNS) and collected public comment for Bus Base North in August and for the I-405 BRT project in September 2020. Our environmental review found neither project will have probable significant adverse impacts on the environment. 
In spring 2021, the project team met with cities along the corridor to discuss potential improvements to support non-motorized access to stations. The project team will continue to work with cities to progress design and evaluate these projects over the course of the next year. 
Revenue reductions caused by the COVID-19 recession combined with rising cost estimates will affect plans and timelines for Sound Transit expansion projects. The project team now anticipates asking the Sound Transit Board to identify the project to be built for both the Bus Base North and the I-405 BRT projects later this year, which would enable the projects to advance into the design and construction phases. The project schedules are subject to change due to impacts from the COVID-19 recession and the ongoing Sound Transit Board realignment process. Learn more about realignment.
In the upcoming design phases, the project team will:

Finalize the design of roadway improvements and sidewalks.
Finalize the design of BRT stations, parking facilities, sign and public art.
Obtain land use, environmental and construction permits.
Continue close collaboration with project partners, especially the Washington State Department of Transportation (WSDOT).
Continue engaging with and providing feedback opportunities for the public, community groups, businesses, elected officials and partner agencies to comment on and inform the design.