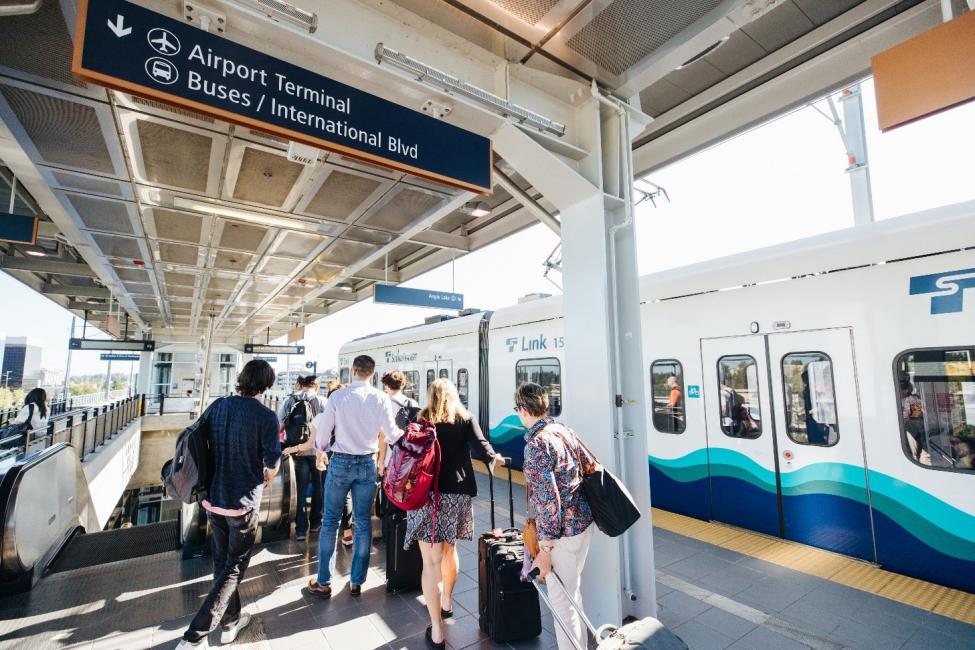 Your link to the airport
Getting to and from the airport has never been easier. It takes just 38 minutes between the airport and the heart of downtown Seattle.

You can also jump on a bus to get you to your destination. Check out our handy trip planner to get things started.
Headed to downtown Seattle or the University of Washington?
Link light rail is just the ticket, with trains departing every 8-10 minutes most of the day. From baggage claim, follow the signs for Link light rail.
From baggage carousel 16 at the north end of the terminal, go up one floor to the skybridge level. Head across skybridge 6 and turn left through the parking garage to the light rail station. A free electric shuttle service also operates continuously between the light rail station and the airport skybridge.
SeaTac Airport is also served by several bus routes operated by Sound Transit and King County Metro.
Sound Transit operates express routes with bus stops at the sound end of the main terminal on the lower drive. The most convenient route to this bus stop is exiting baggage claim at the southernmost door by carousel 1 and walking a short distance south to the bus stop.
King County Metro bus routes stop adjacent to the light rail station on International Boulevard.  Follow the directions to the light rail station and take the pedestrian bridge across International Boulevard to access these buses.
Details and schedules for these connecting bus routes are available here.  
For trip planning or translated assistance you can also contact our Passenger Care team at 1-888-889-6368 Monday - Friday, 8 a.m. to 6 p.m. PST.
Our buses and trains are fully accessible
If you need help between SeaTac/Airport light rail station and the airport terminal, take the free electric carts between the station and airport skybridge (north end of the garage). This service operates from 5 a.m. to 12 a.m. daily and is available to all. There is baggage storage on the back of the cart.
You can also call Prospect Airport Services at 206-246-1550 upon your arrival to the station and they will send someone with a wheelchair as soon as they can. Their hours of operation are 4 a.m. to 1:30 a.m.