As we roll into this season of retrospectives looking back over the maelstrom that was 2020, we're starting with a tour of U District Station. 
U District is one of three stations opening next September as part of the Northgate Link Extension taking light rail through the heart of the University, Roosevelt and Northgate neighborhoods north of downtown Seattle bypassing one of the worst I-5 bottlenecks in the region.   
All three stations are nearly complete with most of the work now focused on systems and train testing.
We're still working out opening day details - please subscribe to The Platform and follow our social channels to stay in the know. 
The 360-degree photos below are from October and correspond with the callouts on the station illustration.
Use your fingers or mouse to look around the individual shots, no special viewer or software needed.
They're amazing and we look forward to taking you to more place in the new year!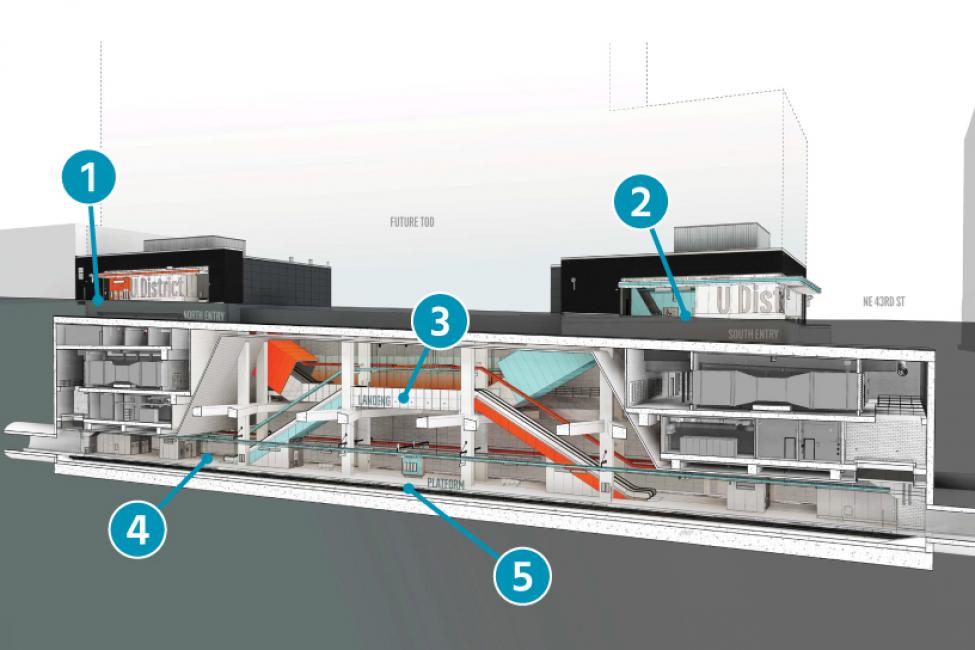 1. Outside the north entrance
2. Inside the south entry
3. At the mezzanine landing level
4: At the base of the north escalator, platform level
5: Center of platform level
Hopefully this isn't your first time checking out U District Station or the Northgate Link Extension. 
Check out these other stories highlighting our progress over the past several years as you look forward to brighter days ahead.