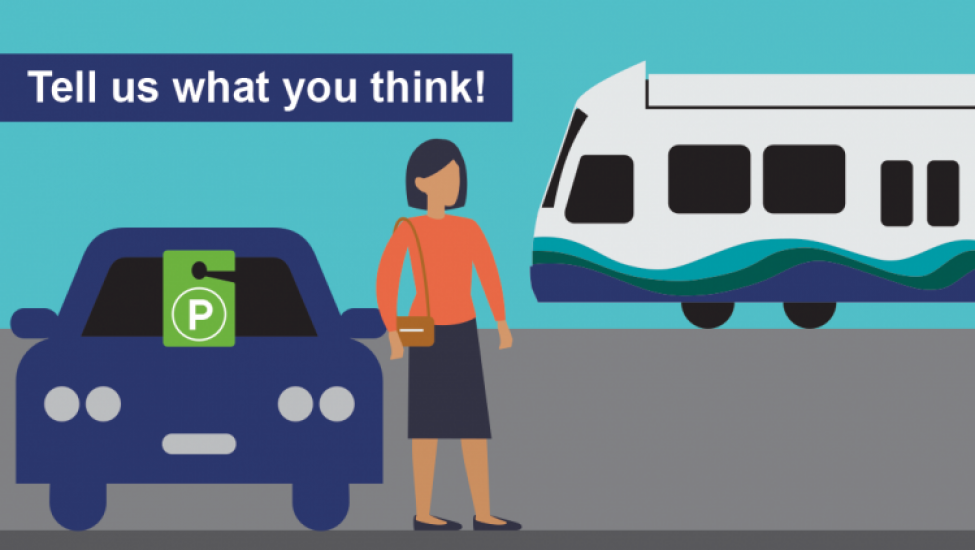 Reserved parking: Sound Transit and King County Metro want your feedback on paid parking permits for solo drivers
Body
(This post has been updated to show the latest outreach efforts kicking off for solo parking permits at select Sound Transit facilities.)
Sound Transit and King County Metro are kicking off outreach efforts to get feedback on plans to offer reserved parking for solo drivers who are frequent transit riders. The permits could be available in late 2018. The initiative is the next step for the agency as it develops new ways to manage limited parking resources.
Take the survey, talk to us in person
Today Sound Transit and King County Metro launched a new online survey to start gathering feedback on permit parking locations, costs and criteria for getting a solo parking permit.
Take the survey and let us know your thoughts! 
In March you will also have opportunities to talk with Sound Transit and King County Metro staff at select parking locations during your daily commute. We will also host evening drop-in meetings at libraries throughout the region to talk more about the program, answer your questions and get your feedback on the best ways to move forward. See the end of this post for a list of meeting locations. 
Background on parking permits
In September, 2016 we rolled out our Carpool Permit Parking Program, which has been a success with almost 300 permits issued to new carpoolers.
While walking, biking, getting dropped off or taking a bus to the station or transit center will always be our favorite way to get to and from the train or bus, programs like these can make a big difference for many commuters by providing the peace-of-mind of knowing they will have a place to park without having to arrive earlier than needed.
That extra time can mean a lot for busy commuters who may have to drop kids at childcare or can't get to the station by 6 a.m. to find a parking spot.
Managing transit parking resources through carpool and solo driver permits is not a new idea; Sound Transit studied parking options for two years while also looking at how other transit agencies around the country manage their parking.
How to get a permit
Exactly how and where the solo driver permits will be rolled out are part of the outreach coming next year, but here's the basic information.
Like the carpool program, solo drivers who take transit an average of three times a week or 12 times a month will be eligible. We verify transit use through ORCA fare card data and check for regular usage monthly to renew the permits.
For now we are considering the following locations where the carpool permits are also available:
Angle Lake Station (Link light rail)
Tukwila International Boulevard Station (Link light rail)
Auburn Station (Sounder)
Federal Way Transit Center (ST Express)
Kent Station (Sounder)
Puyallup Station (Sounder)
Sumner Station (Sounder)
Issaquah Transit Center (ST Express bus)
Tukwila Station (Sounder)
Sound Transit has almost 12,000 parking spots at 37 locations serving the regional transit system. Most of these are full or over capacity on weekdays. Only lots that Sound Transit owns and manages and are more than 97 percent full for three consecutive months are currently eligible for the permit programs, or those that were built to serve Link, such as Angle Lake.
Up to half of the parking spots at any location may be eligible for permit parking based on the demand for permits. That's the same setup as we have today with the HOV permit program.
The reserved spaces would only be available during weekday morning rush hours and would revert to first-come, first-served parking afterwards.
How much will it cost to get a solo parking permit?
This is one of the big questions we'll seek feedback on as part of the outreach next year.
We are considering a range of $15 per month to cover administrative costs, up to $90 a month based on the market-rate average of pay lots near the permitted stations. 
The carpool permits are currently $5 a month – a great deal. This fee could be eliminated with the start of a solo permit program.
Reduced fee parking permits
We are also considering reduced fee parking permits for transit riders who quality for the ORCA LIFT reduced transit fare program. These could range from $0 to 50 percent of the regular solo driver price.
Talk to us in person
Sound Transit and King County Metro staff will host drop-in sessions at libraries throughout the region to talk more about the program, answer your questions and get your feedback on the best ways to move forward. Here's where you can meet us in person to learn more about the program.
Burien Library
400 SW 152nd St, Burien, WA 98166
Thursday, March 8
5 - 7  p.m.
Federal Way Library
34200 1st Way S, Federal Way, WA 98003
Tuesday, March 20
5 - 7 p.m.

Edmonds Library
650 Main St, Edmonds, WA 98020
Thursday, March 15
5 - 7 p.m.

Northgate Library
10548 5th Ave NE, Seattle, WA 98125
Sunday, March 18
1 - 3:30 p.m.
Mukilteo Library
4675 Harbour Pointe Blvd, Mukilteo, WA 98275
Tuesday, March 20
5 - 7 p.m.

Renton Library
100 Mill Ave S, Renton, WA 98057
Wednesday, March 21
5 -7 p.m.

Puyallup Library
324 S Meridian, Puyallup, WA 98371
Tuesday, March 27
5 - 7 p.m.

Union Station
401 S. Jackson Street, Seattle, WA 98104
Wednesday, March 28th
5 – 7 p.m. 

Kirkland Library
308 Kirkland Ave, Kirkland, WA 98033
Saturday, March 31
2 - 5 p.m.
 
Learn more
Sign up through our alerts page (using the email option) to stay informed about the upcoming solo parking permit outreach. Check the "Permit Parking" box under "News & Information."
Or skip the wait and learn more about the existing carpool parking program to apply for your $5 month carpool spot.