Extended closure hours for March 29 and 30
Body
On Thursday, March 29 and Friday March 30, the Island Crest Way Westbound HOV on-ramp closure is planned to extend from 9 a.m. until 7 p.m. During this time, crews will pour a new concrete barrier on the north side of the station. A technique called "slip forming" where concrete is poured continuously into a moving form, will be used and the extended hours are needed to allow the concrete to set properly. Note: this work is weather dependent and may extend into Friday, March 30 if needed and drivers should follow signage.
Off-peak (9 a.m. – 3 p.m.) closures will resume at 9 a.m. on Monday, April 2. Drivers can use the West Mercer Way and 76th Avenue Southeast westbound on-ramps during this closure.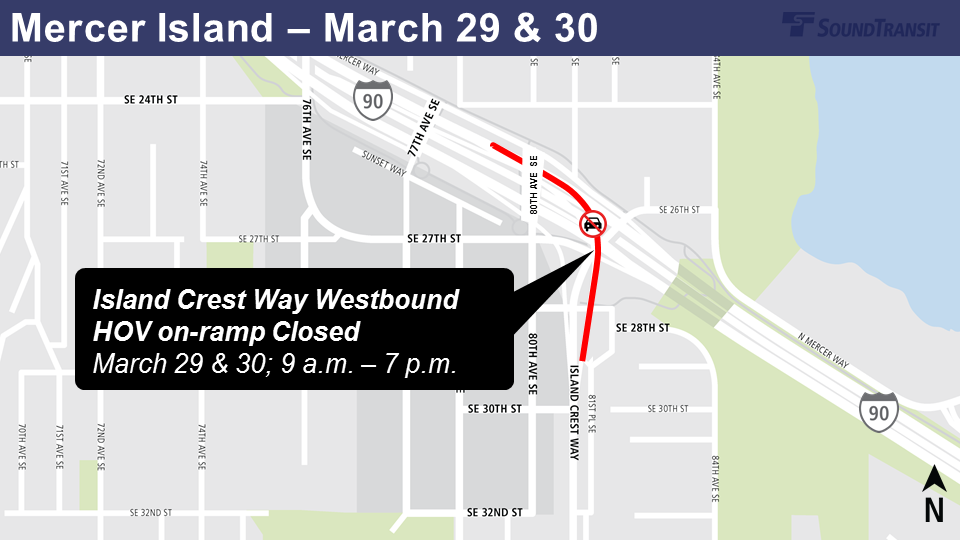 Work Begins on West Headhouse at 77th Avenue Southeast
Beginning as early as April 2, construction will begin along the 77th Avenue Southeast overpass, between North Mercer Way and Sunset Blvd. Southeast.
Crews will install construction fencing in the area, clear and demolish the existing landscape and planters and install the headhouse's structural steel, decking and windows. Work on the east headhouse will follow the same steps in the coming months.
To ensure pedestrian access to North Mercer Way and Sunset Ave. Southeast is maintained, a temporary path will be constructed on the western edge of the construction zone. This path is expected to be complete in May.
What you can expect:
Beginning as early as April 2, crews will install temporary fencing to create a work zone in the planting area along the pedestrian walkway on 77th Avenue Southeast, between North Mercer Way and Sunset Highway Southeast.
Work is planned to occur daily, Monday – Friday, 7 am – 7pm. Saturday work may also occur as necessary.
Concrete demolition and landscape removal will take place. Noise and vibration may be noticeable during these activities.
Temporary traffic control on 77th Avenue Southeast may be required. Please follow the direction of flaggers and signage to safely access your destination.
Landscaping will be installed once construction is complete as part of the East Link project.
Pedestrians will continue to have access throughout construction along 77th Avenue Southeast via a temporary path.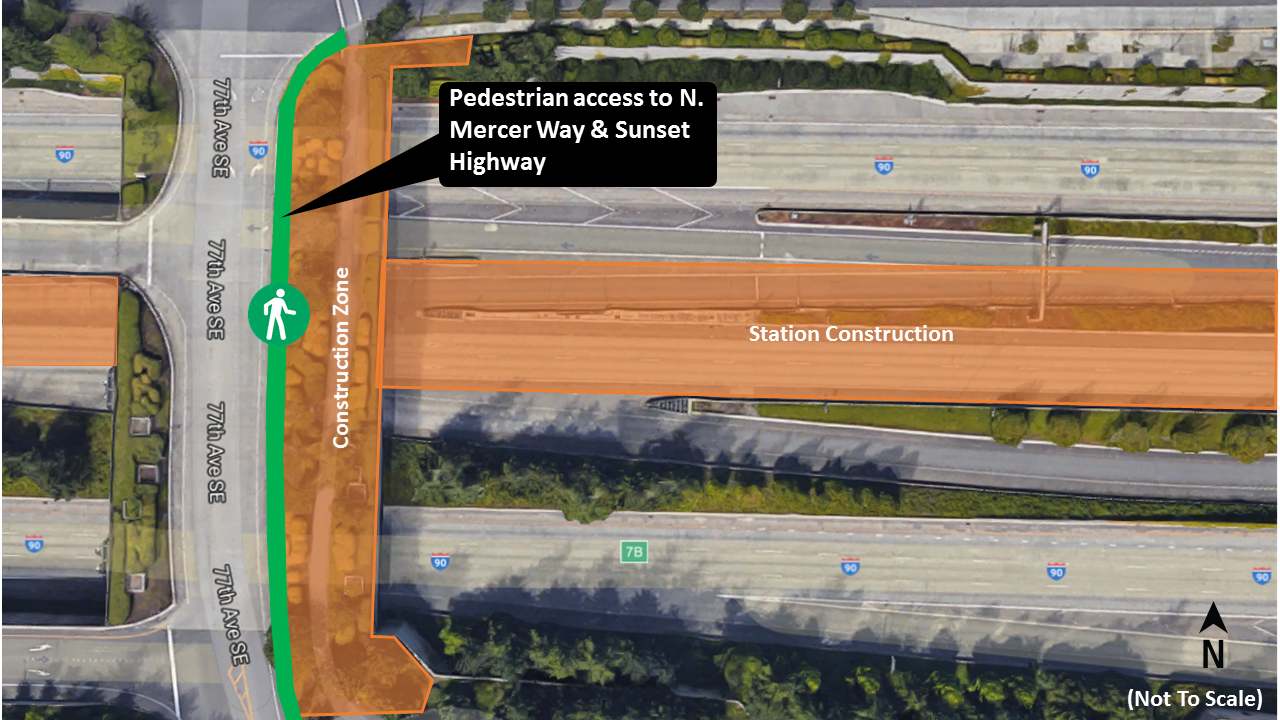 Map depicting future temporary path along 77th Avenue Southeast.