I-90 Westbound HOV Overnight Lane Closures: July 12-14
Body
Sound Transit's contractor will be creating access points to the construction zone located along I-90 on Mercer Island. This work will occur overnight to minimize traffic impacts.
Here's what you can expect:
I-90 Westbound HOV lane will close between East Mercer Way and Interstate 5 in Seattle. Closures will occur nightly between 8 p.m. and 5 a.m., from Wednesday July 12 until Friday July 14.
Crews will remove existing barriers, install new barriers and signage along the workzone.
Crews will work in the existing right of way with traffic control in place. Please use the I-90 general purpose lanes and ramps to reach your destination (see map below for more information).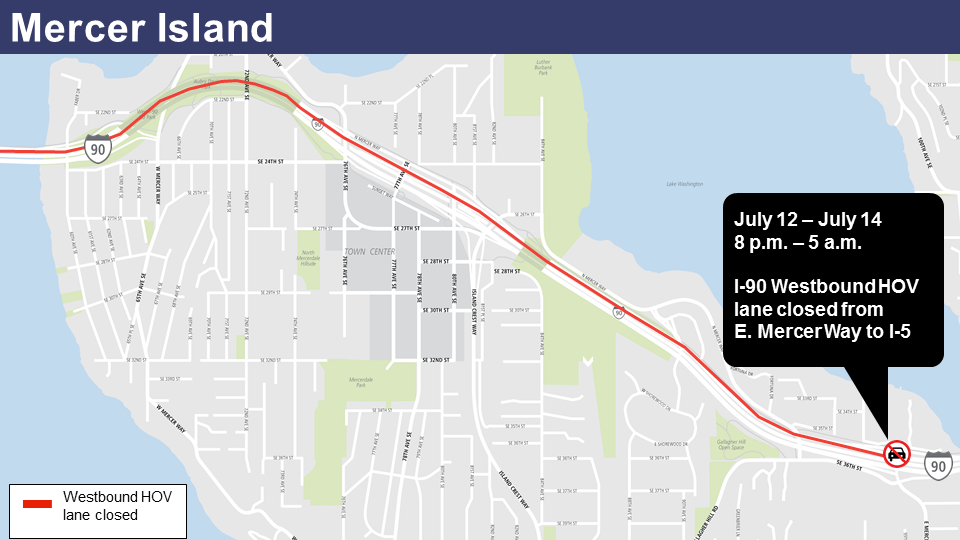 Reminder: Mercer Island Construction Kickoff Open House
On Wednesday, July 12, Sound Transit will host an open house where you can meet the contractor, learn more about construction activities and ask questions of project staff.
Please join us:
When: 
Wednesday, July 12, 5-7 p.m.

Where: 
Mercer Island Community Center
8236 SE 24th St., 
Mercer Island WA 98040