Intersection improvements coming to 76th Avenue Southeast and North Mercer Way
Body
Beginning as early as Monday Oct. 15, crews working for Sound Transit will begin making improvements at two areas near the Mercer Island Station: at the intersection of 76th Avenue Southeast and North Mercer Way and at the sidewalk adjacent to the Mercer Island Park-and-Ride.
At the intersection of 76th Avenue and North Mercer Way, crews will install a pedestrian activated crossing signal and new ADA accessible ramps.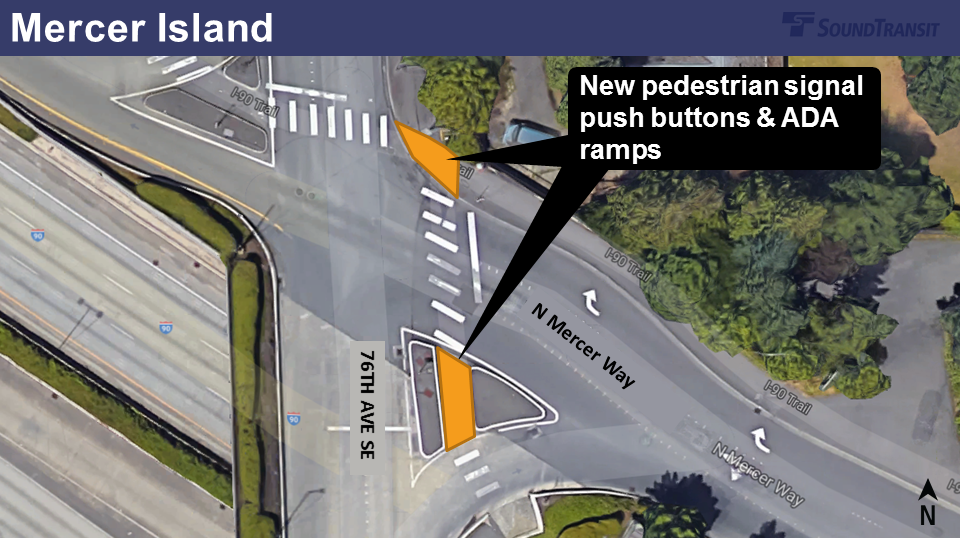 Crews will also install pedestrian and cyclists improvements on the north side of Mercer Way, adjacent to the Park-and-Ride. These improvements are intended to reduce potential conflicts between pedestrians and cyclists. Crews will add pavement markings to delineate the sidewalk and path and will move and modify bus shelters to improve sight lines.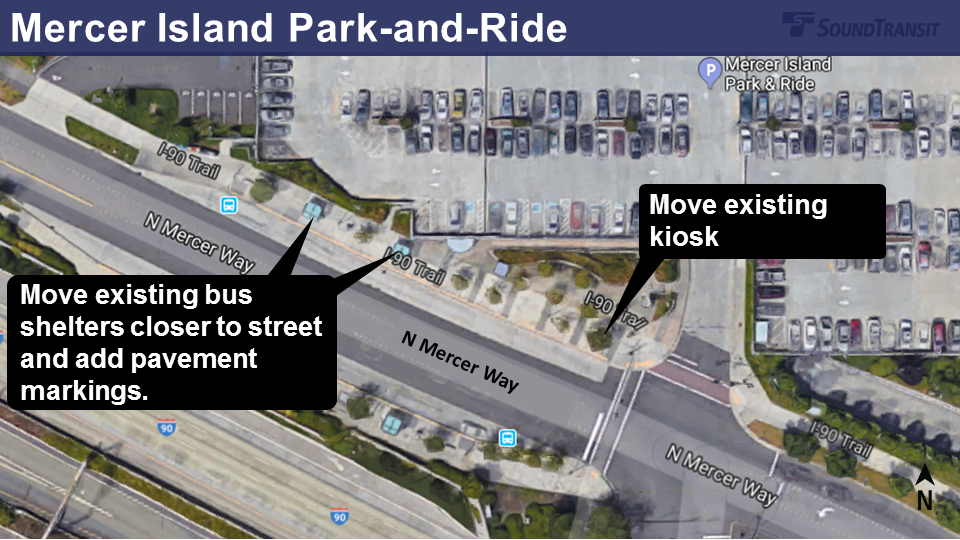 Here's what you can expect:
Work is planned to occur daily from 9 a.m. – 3 p.m. and is anticipated to last approximately two weeks.
Pavement sawcutting and minimal excavation will occur. Intermittent noise and dust may be noticeable.
Crews will close one bus shelter at a time during construction.
Vehicles and pedestrians will be detoured during this work as crews will work in the right of way. Please follow the direction of flaggers and signage to safely access your destination.
Ongoing I-90 ramp closures
As steel supports continue to be installed for the 80th Avenue Southeast head house, crews will continue to close both the east- and westbound Island Crest Way HOV on and off-ramps daily, during off-peak hours during Oct. These closures are necessary to continue erecting steel and completing the station's sound walls. Drivers can use the West Mercer Way and 76th Avenue Southeast westbound on-ramps and the West Mercer Way and 77th Avenue eastbound off-ramps during these closures.
Closures are planned to occur daily but may happen sporadically. Drivers should pay attention to signage and overhead reader boards for more information.