Join us for a Construction Kickoff Open House
Body
Now that the new HOV lanes are open, East Link construction on Mercer Island is just around the corner. Sound Transit understands that construction can be disruptive and is committed to being a good neighbor.
On Wednesday, July 12, Sound Transit will host an open house where you can meet the contractor, learn more about construction activities and ask questions of project staff.
Please join us:
When: Wednesday, July 12, 5-7 p.m.
Where: Mercer Island Community Center, 8236 SE 24th St., Mercer Island WA 98040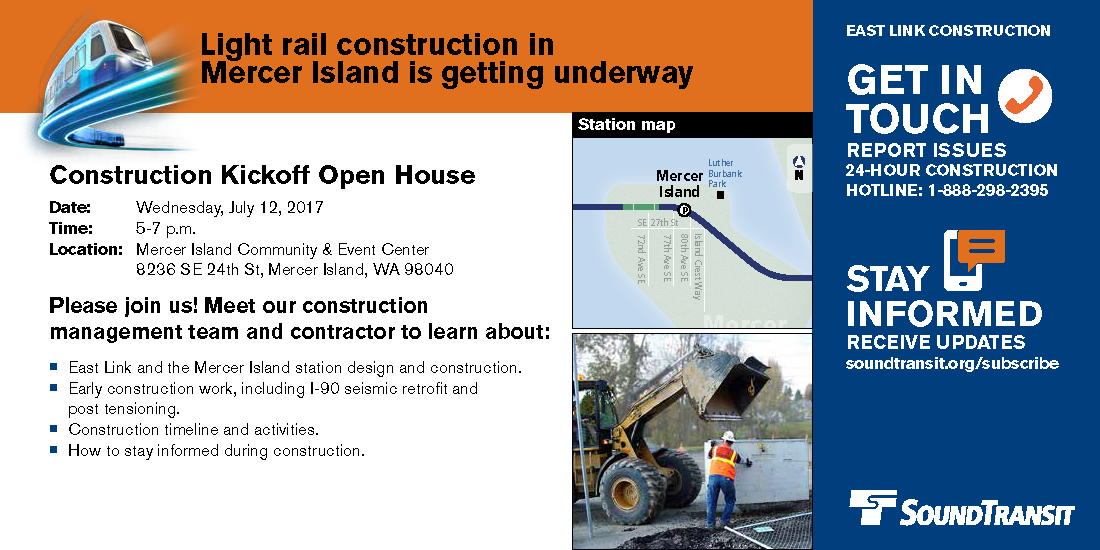 Previewing construction
In the next few weeks, you'll start seeing surveying and construction equipment moving onto the floating bridge before heavy construction begins. Crews will then begin retrofitting the floating bridge and begin work on the Mercer Island Station. Before work begins, we thought it would be helpful to provide answers to frequently asked questions and recap the planning and design phases. Below, you'll see a variety of topics with links to fact sheets where you can learn more.
Light Rail 101 – Why do stations look the way they do? Learn more about Sound Transit's station design criteria.
East Link Benefits – As a growing region, East Link will connect two large population and employment centers. Learn more about East Link's benefits.
Mercer Island Community Outreach – A lot of time, expertise and planning has gone into developing East Link and community engagement has been a key component. Learn more about community outreach.
I-90 Track Bridge and Crossing – Sound Transit will be doing something that has never been done before – build and operate light rail on a floating bridge. To do so, Sound Transit and its consultants answered 23 issues that were identified by an Independent Review Team. Learn more about the engineering behind this monumental undertaking.
Stay connected
You've got questions. We have answers. Sound Transit is committed to keeping you informed throughout construction. Visit the East Link website for the latest project information and project updates.