Steel pole foundation work on Northeast 180th Street
Starting as early as July 8th, Sound Transit will be working on Northeast 180th Street. Sound Transit will be working on setting steel pole foundations for early work construction to relocate existing utilities to construct the guideway for Lynnwood Link Extension. The work involves setting heavy equipment and drilling shafts for steel pole foundations. There will be flaggers on site of the construction work zone to keep traffic moving.
What
Open lanes to traffic will be reduced to 11 feet near the construction work zone area.
All traffic will be assisted by flaggers on site to safely cross through Northeast 180th Street during construction.
Access to driveways will be maintained at all times to local residents. 
Crews will drill shafts for transmission line steel pole that will cause construction noise and vibration.
King County Metro will provide alerts and updates on affected bus routes at www.kingcounty.gov. 
When
As early as July 8th, work will remain for up to two weeks.
Work hours are from 7 a.m. to 5 p.m. Monday to Friday. 
Weekend work will occur if necessary.
Where
Northeast 180th Street (see map).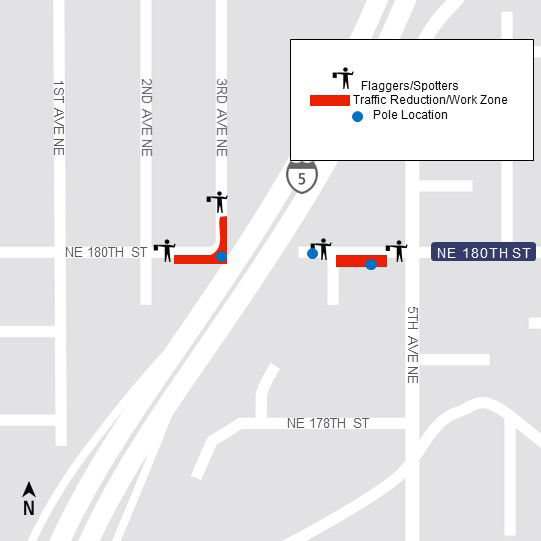 Contact us
Community Outreach: My Nguyen, lynnwoodlink@soundtransit.org or 206-370-5690.
24-hour construction hotline: 1-888-298-2395